- Effective 02/28/2015 -
18 AAC 50.246 - Air Quality Episodes and Advisories for PM2.5 (Link to: Air Quality Advisories / Episodes)
These requirements only affect the Fairbanks North Star Borough PM2.5 Nonattainment Area, 18 AAC 50.076 specifies which fuels may be burned in solid fuel-fired heating devices and lists the types of fuels and materials that cannot be burned.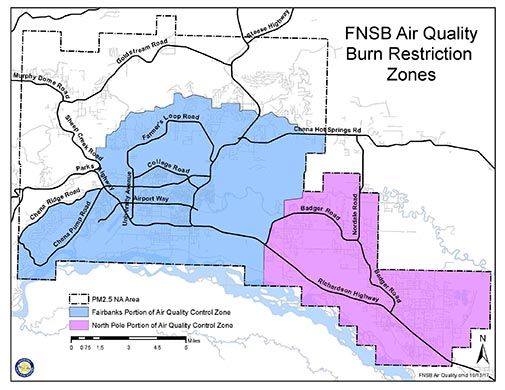 Burn Dry Wood Requirement
-Beginning October 1, 2015-
Between October 1 and March 31 each winter in the FNSB PM2.5 Nonattainment Area, only wood that is dry with a moisture content less than 20% may be used as fuel in a heating device. Learn about the benefits of burning dry wood and how to season wood. The voluntary Moisture Disclosure Program connects customers with wood sellers who tell them about the moisture content of the wood they sell.
Staff Contact:
Wood Device Allowable Fuels:
Clean Wood - (Dry Wood <20% moisture content is required October 1st - March 31st each winter starting October 2015)
Wood Pellets
Manufactured Compressed Wood Logs
Wood Bricks
Wood Pucks
Manufacturer Recommended Starter Fuels
Biomass Fuels Approved by the Manufacturer
Any Non-Prohibited Fuel Also Approved by the Manufacturer - (Except for wet wood October 1st - March 31st each winter starting October 2015)
Coal Device Allowable Fuels:
Coal
Coal Pellets
Any Non-Prohibited Fuel Also Approved by the Manufacturer
Prohibited Fuels:
Wood that is:

Painted
Stained
Coated
Treated
Preserved

Asphalt
Rubber
Tar Products
Materials Contaminated with:

Petroleum
Petroleum Derivatives
Oily Wastes

Oil Cleanup Materials
Chlorinated or Halogenated Organic Compounds:

Plastics
Polyurethane Products
Pesticides
Herbicides
Fungicides

Compounds Containing:
Animal Carcasses
Putrescible Garbage