Climate Change in Alaska
The DEC participated the Alaska Climate Change Executive Roundtable (ACCER). ACCER was established jointly by the U.S. Fish and Wildlife Service and the U.S. Geological Survey in 2007. It is comprised of both federal and non-federal senior level agency executives from throughout Alaska, who meet regularly to share information and facilitate cooperation amongst agencies in seeking solutions to the challenges presented by climate change.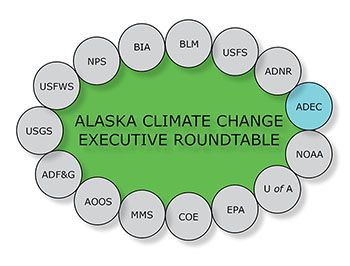 The DEC Division of Air Quality program includes responsibilities for reporting emission inventories to EPA and monitoring air quality. The links below serve to provide information regarding Climate Change. Additional DEC program information can be accessed through the 'Quick Links' on this web page.
LINKS:
Clean Power Plan - 111(d) Information Web Page
State of Alaska Actions Addressing a Changing Arctic (PDF 2.13M), Keynote speaker: Denise Koch, DEC, Air Quality Director, October 5, 2016
DEC Division of Air Quality - Greenhouse Gas Emission Inventory Web Page
The Alaska Greenhouse Gas Inventory and Reference Case Projections, 1990-2020 (PDF), prepared in February 2007 by the Center for Climate Strategies for DEC, takes a first comprehensive look at all potential anthropogenic sources of GHG emissions in the state.
On January 24, 2007, former Director of DEC's Division of Air Quality Tom Chapple, and other directors, testified before the Alaska Climate Impact Assessment Commission (Climate Commission) about climate change and the state's ability to respond to it, as well as changes already happening. Select a link below to download the presentation (same presentation, three options to view).
In 2006, House Concurrent Resolution 30 created the Alaska Climate Impact Assessment Commission (Climate Commission). See Final Commission Report (PDF 8.16M) published March 17, 2008.
Air Quality Staff Contact: