Class 2 Facilities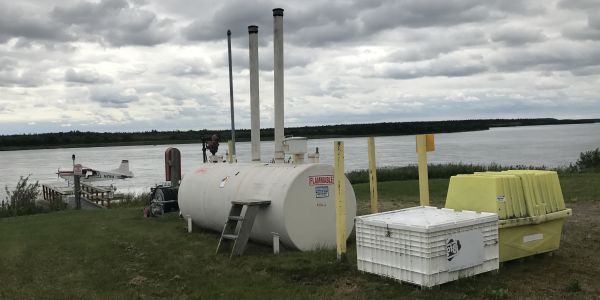 What is a Class 2 Facility?
The Class 2 facility regulations 18 AAC 75.835 - 18 AAC 75.849 (PDF 723K) were adopted by DEC on April 21, 2017, signed by the lieutenant governor on May 25, 2017, and have been effective as of June 24, 2017.
The purpose of the regulations is to create a statewide inventory of a newly-designated classification of aboveground storage tank facilities: Class 2 facilities.
Class 2 facilities:
Are onshore
Are not residential properties (i.e. do not include home heating oil tanks)
Have a storage capacity equal to or greater than 1,000 gallons and less than 420,000 gallons (Total storage capacity includes aboveground tanks 1,000 gallons and greater)
Store non-crude oil (petroleum-based, motor fuels, jet fuels, heating oil, residual fuel oils, lubricants, and used oils)
Are not required to have a contingency plan filed with the state
For more information, please see the Class 2 Facilities Frequently Asked Questions (FAQs) 
Note: Refer to 18 AAC 75.835 - 18 AAC 75.849 (PDF 723K)
Regulations Summary
The regulations require a representative of a Class 2 facility to complete and submit a Class 2 Facility Registration and Notification Form within 30 days after:
A facility is placed in service
An AST at a previously registered facility is placed in service
An AST at a previously registered facility is permanently closed
The facility is no longer a Class 2 facility
The facility owner, operator or name of the owner or operator changes
Registration Information
The deadline for registration of existing facilities was September 22, 2017. We understand not every Class 2 facility may be aware of the new registration requirement. Please submit a registration form as soon as possible, and within 30 days of a change of owner, operator, or if an AST is added or removed.
Please consult the Frequently Asked Questions page for further guidance, such as assistance on determining what facilities need to submit a Class 2 Facility Registration and Notification Form. See our contact information below to add your questions to the list and find answers. All forms are available below. The completed form(s) may be printed or completed digitally and mailed or e-mailed to the department. Department responses to the public comment period, which ended January 19, 2017, are available on the Class 2 Facilities Amendments webpage.
Community Outreach
Upcoming conferences, presentations and meetings related to Class 2 facilities to be attended and/or hosted by DEC staff, as well as communities DEC plans to visit, will be listed here.
Department staff will be in the Norton Sound region the week of April 16-20, 2018. If you live in or near Unalakleet, Shaktoolik, Stebbins or Saint Michael, and would like a chance to connect, ask questions or voice concerns, please contact us.
Resources
The webpage will serve to provide information on resources for Class 2 facility operators, including training, assistance, advice, and other opportunities.
View or print an informational brochure (PDF 194K) on Class 2 facilities. Feel free to print and distribute this pamphlet. It contains contact information including a link to this webpage, suggestions for healthy facility operation, and specifics of this new designation of aboveground storage tank facilities.
Free or subsidized opportunities:
Bulk Fuel Operator course: tuition and travel assistance for 10-day AVTEC, Alaska's Institute of Technology, bulk fuel operator training; courtesy of Alaska Energy Authority and the Denali Commission.

NEW to this course in 2018: following completion of this course, a professional bulk fuel operator will visit the home facility of each participant to provided site-specific guidance and advice.
Session 1: April 16-27, 2018 Session 2: April 30-May 11, 2018
To apply and register or speak with the course coordinator, visit the Alaska Energy Authority website (external link). 

The Denali Commission offers financial assistance for fuel-related projects. Details can be found on the Energy Program website (external link).
Repair and Replacement Fund assistance (free professional guidance on developing and managing rural energy infrastructure); courtesy of the Denali Commission and the Alaska Community Foundation.
$5,000 towards one year of assistance from Rural Alaska Fuel Services (facility-specific inspections, trainings, repairs); courtesy of the Denali Commission. Details can be found on the Rural Alaska Fuel Services website (external site).
Tribal Capacity and Training program: learn how to have a voice in rural Alaska's environmental issues by attending one of the courses below. Participation is free, provided by Alaska Native Tribal Health Consortium (ANTHC). Details can be found on the ANTHC website (external link).

Tribal Environmental Plan Development Workshop
Introduction to the Indian Environmental General Assistance Program
Climate Change Adaption Training
Send us a note if you have a suggestion for an outreach or resource opportunity or if you would like to learn more.
For More Information