Western Alaska Geographic Response Strategies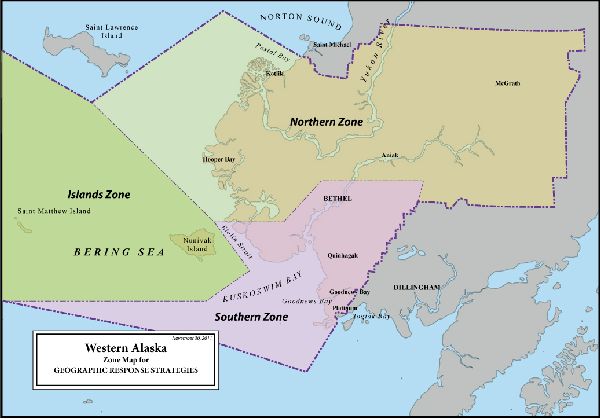 This website is being used to assist the workgroup in the development of Geographic Response Strategies (GRS) to protect sensitive coastal environments in the Western Alaska Subarea from marine oil spills. For this project, the Western Alaska Subarea has been divided into three Geographic Response Zones as shown on the map above.
A workgroup has been formed to develop GRS for the Western Alaska Subarea. Participants include Local, State and Federal resource trustee agencies and governments, local spill response experts, oil spill contingency plan holders and local individuals with knowledge of the area.
The Geographic Response Strategies (GRS) and tactics described on this site and in the subarea plans, are NOT prescriptive in nature. They are recommended deployment configurations for initial responders. They can, and should, be adjusted to fit the current situation and environmental conditions.
Announcements
A draft GRS Site Evaluation form has been uploaded for review. We welcome your input, which should be sent to dec.spar.grs@alaska.gov. The most current version of this form will remain available under the GRS Links section of this page. Thank you for helping to improve its usefulness. 
Primary Participants
Alaska Department of Environmental Conservation