M/V Golden Seas
Incident Description
At 8:05 AM on December 3, 2010, the US Coast Guard (USCG) reported to the Alaska Dept. of Environmental Conservation (ADEC) that the vessel M/V Golden Seas was adrift north of Adak Island. The crew of the vessel reported the loss of power to the USCG at 12:15 AM on December 3, 2010.

No spill has occurred.  The 

Golden Seas

 is a 738-feet-long Liberian-registered Panamax bulk carrier with 20 crew members aboard.  The USCG reports that the vessel's cargo is rapeseed (used to make canola oil) and that it may have up to 451,561 gallons of IFO 380, 11,780 gallons of diesel fuel, and 10,000 gallons of lube oil on board. (NOTE: These volumes are provisional and unconfirmed at this time.)

The crew reported that the turbocharger on the ship's single propulsion engine failed and was not reparable at sea. Without the turbocharger, the ship's engine was not able to turn propeller with sufficient power to hold vessel in position or make headway in the severe weather it faced.

Spill No.

10259933701
Incident Update
NOTE: The following information is provisional and subject to change as more information becomes available.
Update for December 14
The 

Golden Seas

 departed Unalaska Bay at 9:45 AM on December 13, bound for the United Arab Emirates (its original destination).

Repairs to the vessel's turbocharger were completed on December 12 and approved by the Coast Guard.  Sea trials were conducted on December 13 and the Golden Seassubsequently departed Dutch Harbor at 9:45 AM that morning.

The ADEC emergency towing package used during this incident is being cleaned and inspected by a contractor in Dutch Harbor.  Based on results of the inspection, components will be replaced or retained, and the package will be re-staged at Dutch Harbor for future use.  The additional emergency towing system deployed to Adak has been returned to Coast Guard Air Station Kodiak.

View the latest ADEC Situation Report for more details.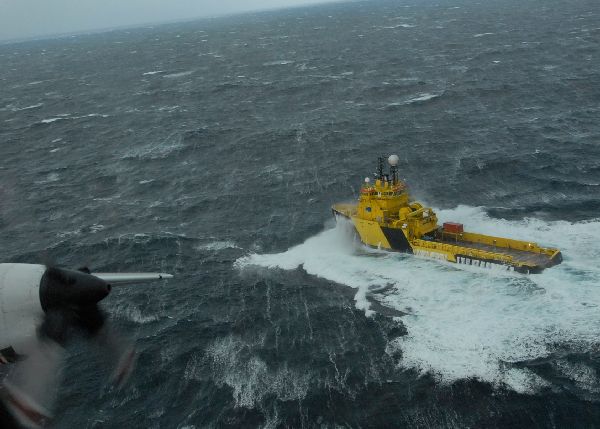 Above: The crew of the tug Tor Viking II is observed by an Air Station Kodiak HC-130 Hercules crew moving at 12 mph through 20 foot seas and 46 mph winds 48 miles from the 738-foot cargo vessel Golden Seas in the Bering Sea Dec. 4, 2010. Photo courtesy of the USCG.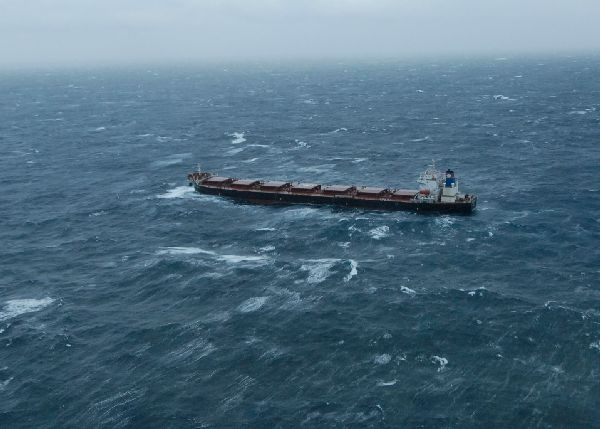 The 738-foot cargo vessel Golden Seas makes 3.5 mph through 20-foot seas 50 miles north of Adak Island Dec. 3, 2010. U.S. Coast Guard photo by Petty Officer 1st Class Sara Francis.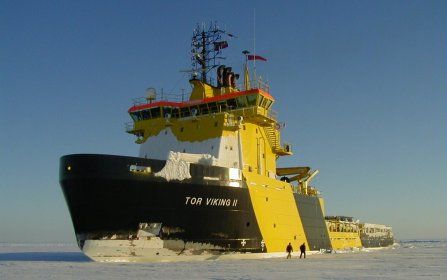 File photo of the Tor Viking II, which is carrying the Emergency Towing System. More information about the Tor Viking at the owner's website, Viking Supply Ships.
Properties of Oil
Resources at Risk
Coastal Resource Inventory Maps
Technical Information
Historic Oil Spills
Reports
Weather and Tides
Adak Public Forecast

 

(Central Aleutians including Atka and Adak)

Marine Forecast

Western Aleutians, Adak to Kiska
Eastern Aleutians, Nikolski to Adak

NOAA Weather Bouy Data
Unified Command Press Releases and Contacts
Photos
Images may be downloaded for free and used in publications provided credit is given to the source.
December 5, 2010
Videos
All video courtesy of USCG.
December 3, 2010
A Coast Guard HC-130 Hercules aircrew locates and makes contact with the crew of the 738-foot Liberian-flagged cargo vessel Golden Seas traveling about 3 mph in 20 foot seas and 46 mph winds 50 miles north of Adak Island Dec. 3, 2010. The Hercules crew also dropped a self locating data marker buoy to collect set, drift, current and temperature information.
December 4, 2010
The Tor Viking II is navigating through the Bering Sea en route to tow the motor vessel Golden Seas which is about 47 miles north of Atka Island to Dutch Harbor Dec. 4, 2010. Coast Guard assets were deployed and diverted to respond to a report by the crew of the Golden Seas who reported an engine turbo-charge failure to the Coast Guard at 4 a.m. Friday limiting power and steerage about 70 miles north of Adak and drifting southeast toward Atka Island.
December 5, 2010
The tug Tor Viking II tows the 738-foot cargo vessel Golden Seas to Dutch Harbor with the Coast Guard Cutter Alex Haley escorting 50 miles southwest of Dutch Harbor in the Pacific Ocean Dec. 5, 2010. The cargo vessel suffered a turbo-charger failure Dec. 3 limiting its power and steerage and prompting the Coast Guard to deploy and divert assets to respond in the event of an emergency.