Butte Air Quality Study Sensor Data
DEC is conducting a saturation study using a network of low-cost monitors as part of its effort to relocate the current Butte site.
The field sampling portion of the study was completed March 3, 2021 and real-time data will no longer be displayed. This site will be updated with results once the data have been analyzed.
Butte Site Relocation Study
DEC is beginning the process of moving the official Butte air monitoring site from its current location off South Harrison Court because there will be nearby construction and the trailer that holds the monitoring equipment is in the way.
The Butte air monitoring site is a maximum impact site that measures particulate matter (PM) and is required by the Environmental Protection Agency (EPA). In order to move the site, a similar location must be identified.  Then data will be collected at both the old and new locations to allow for comparison and to help to maintain the long-term data record and trends.
DEC deployed low cost MetOne Neighborhood Monitors around the current site location to find areas of equivalent impact.  They collected data from November 2020 to March 2021.
Once an area of equivalent impact has been identified, a site will be selected within that area that can house the new monitoring station. The new site will be set-up in summer/ fall of 2021 and data will be collected there and at the current site for a minimum of 1 year.  After obtaining the necessary approvals from EPA, the current site can be shut down and the new Butte site will operate as the official site.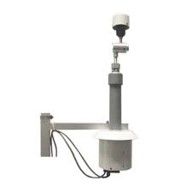 MetOne Neighborhood Monitor

Indicates an external site.