Cruise Ship Impacts - Southeast Alaska Air Quality Monitoring Project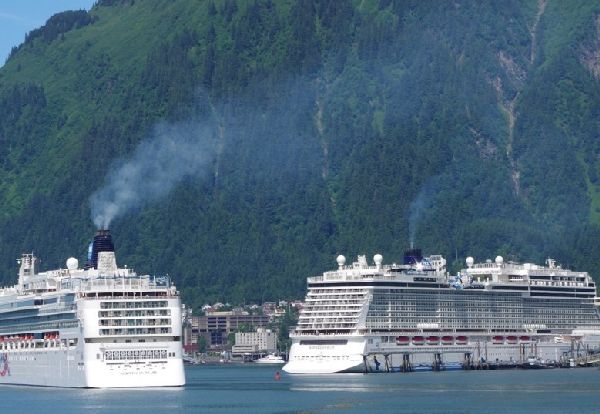 2019 Cruise Ship Season Study
The Department of Environmental Conservation (DEC) Division of Air Quality conducted a study from 4/19/2019 to 10/7/2019 in the downtown Juneau area to assess air quality impacts from the cruise ship industry. The study was initiated to address increasing public complaints regarding cruise ship emissions over the previous two years. 
Key Points from the 2019 Study
Based on the particulate matter measurements from the PA monitors, the air quality in Juneau during the study period can be considered as "Good" using the EPA Air Quality Index (AQI) classifications, with only a few days during wildfire smoke events considered as "Moderate" to "Unhealthy for Sensitive Groups".
While there is strong evidence cruise ships had short term impacts on air quality in downtown Juneau, there is no evidence to suggest the cruise ship industry air quality impacts in Juneau during the 2019 cruise ship season would have led to 24-hour PM2.5 violations of the NAAQS.
During the six-month study, emissions events from cruise ships were typically brief and only lasted one or two hours. Short term emissions plumes from cruise ships were detected by the monitors in the form of widespread elevated PM2.5 concentrations affecting multiple sites simultaneously. Slash burning, outdoor food vendors, and residential activities also had noticeable short-term impacts on air quality.
Early in the 2019 cruise season, cruise line companies worked together to reduce their impact on local air quality. Two of the strategies used for reducing emissions were reducing idle times in the harbor and switching to a low sulfur marine fuel while in port. While it is difficult to compare Juneau's 2019 cruise ship related air quality impacts to previous year's impacts as no monitoring data exists for 2018, the 2019 season had fewer complaints that the previous two years.
The data collected did not identify a single maximum impact site but indicated that various parts of the downtown Juneau were impacted simultaneously by emission plumes, depending on weather conditions.
DEC is planning follow up monitoring in 2020.
Click here to view the full 2019 Cruise Ship Study Report report or follow this link to view the Interactive PM2.5 Data Map.
2019 Cruise Ship Study Report (PDF)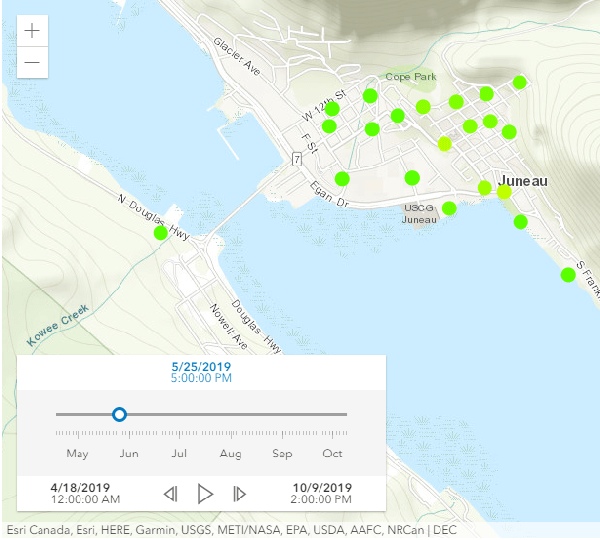 2019 Cruise Ship Study Data Map
2019 Study Planning Documents
2019 Season Sampling Plan - April 2019 (PDF)
2019 Season Quality Assurance Project Plan (QAPP) - May 2019
Presentation to Juneau Commission on Sustainability - January 29, 2019 (PDF)
2000 Season DEC Alaska Cruise Ship Initiative Part 2 Report

Contact Us
Program Manager, Air Monitoring & Quality Assurance
Anchorage, AK
Phone: 907-269-6249

Indicates an external site.