Cruise Ship Impacts - Juneau Air Quality Monitoring Project
The State of Alaska Department of Environmental Conservation (DEC) Water Quality Cruise Ship Program and Air Quality Monitoring Program are collaborating to address increasing public complaints regarding cruise ship emissions and discharges.  The last study regarding air quality impacts from cruise ships emissions in Juneau was conducted in 2000: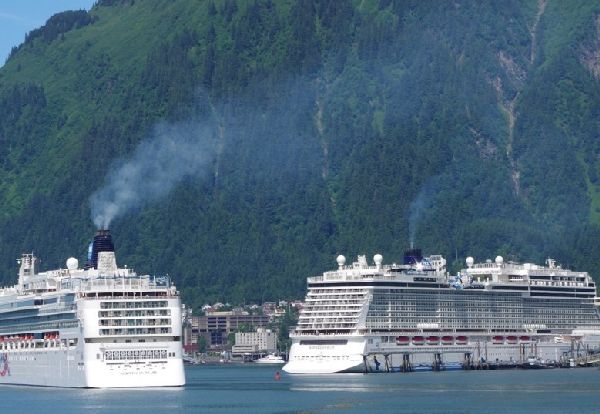 2019 Study Plans
The Air Monitoring and Quality Assurance Program (AMQA) will conduct a preliminary saturation study in Juneau prior to and during the summer cruise season of 2019 focusing on the overall ambient air quality.  The objectives of the Juneau saturation study are:
to address ambient air quality complaints centered on the cruise ship industry emissions;
to determine which areas of downtown Juneau are most affected (maximum impact locations); and
to assess if the scale in terms of frequency, duration, spatial variability and severity of these impacts has the potential to significantly affect public health and/or violate Clean Air Act air quality standards.
The saturation study will use a tightly-spaced grid of Purple Air low-cost particulate monitors (PM2.5) and several Ogawa passive sulfur dioxide (SO2) monitors to meet these objectives.  PM2.5 is commonly used as an indicator of exhaust plumes.  Elevated SO2 samples may confirm that the plume(s) originate from cruise ships as Juneau has no significant sources of SO2.  The pollutant data will be combined with wind speed and wind direction information from the meteorological stations in the map below, prior to and during the cruise ship season to characterize pollution events affecting downtown Juneau.  Depending on the results from the 2019 saturation study and availability of funding, DEC may conduct a more in-depth study that could include monitoring for additional pollutants and the use of higher cost, more accurate, monitoring equipment or may establish a long term air quality monitoring network in downtown Juneau to provide a reliable baseline of air quality conditions from cruise ship visits.
Plan Documents
Sampling Plan - April 2019 (PDF)
Quality Assurance Project Plan (QAPP) - May 2019 (PDF)
Presentations
The Juneau Commission on Sustainability invited DEC Staff from the Cruise Ship and Air Quality Programs to present preliminary plans to the community on January 29, 2019. 
Contact Us
The Air Monitoring Program is interested in hearing from residents about where impacts from cruise ship plumes are being noticed and is looking for information on where to place monitoring equipment.
Program Manager, Air Monitoring & Quality Assurance
Anchorage, AK
Phone: 907-269-6249
Meteorological Stations
Historical summertime-only wind roses for five meteorological monitoring sites that will be used in data analysis are shown on the map below.
| Site | Name | Elevation | Date Range (Summer Months Only) | Wind Rose File |
| --- | --- | --- | --- | --- |
| JFBA2  | Juneau Federal Building | 135 ft | Apr 2013 - Sept 2018 | PDF |
| JNEA2  | AT Juneau NOS | 0 ft | Apr 2009 - Sept 2018 | PDF |
| JTMA2  | CBJ Mount Roberts | 1736 ft | Apr 2017 - Sept 2018 | PDF |
| SDIA2  | South Douglas Island | 13 ft | Apr 2008 - Sept 2018 | PDF |
| THNA2  | Thane Road MP 1.9 | 33 ft | Jun 2016 - Sept 2018 | PDF |

Indicates an external site.