2018 Recreational Season Monitoring Complete for Kenai Beaches
For immediate release — September 19, 2018
Contact: Nancy Sonafrank, Division of Water, 907-451-2726, nancy.sonafrank@alaska.gov
Kenai, AK — The Department of Environmental Conservation (DEC) has completed the 2018 Kenai BEACH Monitoring Program for coastal areas in Kenai, Alaska. Bacteria monitoring is planned for 2019 to help further determine bacteria sources, and to understand the natural background levels of bacteria. Further sampling will continue during the recreation season in summer, 2019. Beaches monitored this season include:
South Kenai River Beach
North Kenai River Beach
Enterococci levels were found to be below the state standards for recreational uses at both beaches listed above.
Fecal coliform bacteria levels were above state limits protecting consumption of raw fish and shellfish at both beaches listed above. DEC recommends that when fishing in these areas people should rinse fish/marine foods with clean water and cook seafood to a minimum internal temperature of 145 degrees Fahrenheit to destroy pathogens.
As part of a statewide recreational beach monitoring program, marine water samples have been collected weekly from June 12 to September 7 at the recreational beach locations listed below. The 2018 monitoring location maps and an analytical data results table are available on the Alaska BEACH Grant Program Website; the 2018 monitoring report will be posted on the website in late 2018.
The purpose of DEC's 2018-2019 monitoring on the Kenai River coastal beach areas is to evaluate background levels of bacteria before, during and after the fishery season to determine progress towards meeting water quality standards. The City of Kenai has implemented Best Management Practices (BMPs) to remove fish carcasses discarded on the recreational beaches during the July Personal Use Fishery (PUF). The BMPs were undertaken to discourage the presence of seabirds and therefore reduce the bacteria from seabird waste. Previous bacteria monitoring was done during 2010 to 2014; primarily during the fishery seasons.
Enterococci and fecal coliform bacteria can come from any warm blooded animal, including birds, seals, and dogs, as well as humans. Microbial source tracking tests were performed during the 2014 Kenai BEACH monitoring season. Results from this testing indicated that seagulls and other birds from the nearby bird colony were responsible for most of the bacteria analyzed. Other potential sources of bacteria in Kenai may include wildlife and pet feces, human waste from private and municipal treatment systems, sewer line leakage, campers and/or large boats with toilets in harbor areas. Contact with water impacted by enterococci or fecal coliform bacteria may cause stomach aches, diarrhea, or ear, eye, and skin infections.
The beach sampling program has completed one year of monitoring, and is funded by the Environmental Protection Agency's Beaches Environmental Assessment and Coastal Health (BEACH) Act grant program and implemented by DEC. It is part of a nationwide effort to decrease the incidence of water-borne illness at public beaches.
Since 2002, the Alaska's BEACH Program has been monitoring recreational beaches throughout the state, including other communities in Alaska. For more information about the Alaska beach monitoring program, visit the Alaska BEACH Grant Program Website.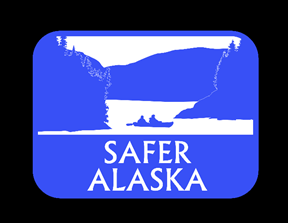 Indicates an external site.