Proposed REvisions to the Alaska Food Code
Frequently Asked Questions
Last Updated 10/30/2019 at 2:00pm
These FAQs will be updated as additional written questions are received.
What are the main changes I should be aware of and how will the changes affect me?
The proposed changes are intended to streamline, update, and simplify the regulations for food processors in Alaska.  Eliminating duplicative language that is already required by the federal government should make it easier for food processors to understand what requirements specifically apply to them. The primary significant and substantive revisions include:
Adoption of 21 CFR 117, including provisions dealing with employee training, current good manufacturing practices, hazard analysis, and risk-based preventive controls;
Adoption of specific requirements for recall plans;
Adoption of 21 CFR 129 , including provisions for processing and bottling drinking water;
Relocation and updates to the requirements for HACCP plans and reduced oxygen packaging for food services and markets; and
Adoption of a new requirement for food services to record the date on shellstock tags when the last shellstock is sold or served.
Several other federal rules are also proposed to be adopted by reference. These rules primarily affect food processors, who are already subject to their requirements.
How will the adoption of 21 CFR 117 affect food processors?
In general, the requirements for preventive controls for human food apply to establishments who manufacture, pack, or hold human food for consumption in the United States.  The requirements apply if an establishment is required to register with the FDA under section 415 of the Federal Food, Drug, and Cosmetic (FD&C) Act.  Entities defined as "farms", retail food establishments, and restaurants are some of the entities that are not subject to the preventive control requirements because they are not required to register.  There are several exemptions or modified requirements that may apply. 
21 CFR 117 replaces 21 CFR 110. The following good manufacturing practices (CGMPS) were updated:
Training: Management is required to ensure that all employees who manufacture, process, pack or hold food are qualified to perform their assigned duties. The employees must be trained in principles of food hygiene as appropriate to the food, the facility, and the individual's assigned duties. Records of training must be maintained.
Allergen cross-contact: Facilities are required to employ practices and procedures to control allergen cross-contact.
Human food by-products used for animal foods: The updated CGMPs contain provisions for holding and distributing human food by-products that are used for animal food.
 Large facilities that do not come under qualified exemptions are required to develop and implement:
Food Safety Plans: This is a written plan that identifies food safety hazards that require preventive controls and implementation of preventive controls to significantly minimize or prevent hazards.
Risk-Based Supply Chain Program: If you are a manufacturer and identify a hazard related to ingredients you receive from a supplier and will depend on the supplier to control the hazard, you must have and implement a supply-chain program with appropriate verification steps.
There are several guidance documents on the FDAs web pages for more information on the rules and tools for developing food safety plans. The Department will provide links to all of these materials.
How has DEC simplified Alaska's regulations or reduced the burden on the regulated industry?
The Department did a thorough comparison of 18 AAC 31 and the federal food processing requirements, specifically the regulations that apply to processing of food for wholesale distribution. In doing so, we found that some language in 18 AAC 31 was duplicated in federal code. In other places, it was not entirely clear when or how some of the materials adopted by reference applied. For each of the good manufacturing practices requirements in particular, the Department identified and deleted duplicate language. When Alaska has additional or more specific requirements than is listed in federal code, it is now easier to find and understand those specific requirements.
The requirements for HACCP plans have been streamlined and simplified to make clearer which processes require a HACCP plan. This section was rewritten to more closely reflect what is in the FDA Model Food Code.
The requirement for a food processor to have a Certified Food Protection Manager on site has been repealed. This requirement is still appropriate for food services and markets.
Why did the definition of "food processing establishment" change?
The current definition lumps together establishments that process food for wholesale distribution and food establishments that are preparing foods for on-site consumption or retail distribution that are more hazardous, and that may require a HACCP plan. The Department wants to draw a clear line between food establishments that process for wholesale distribution and retail food operations so it will be more clear what requirements specifically apply to them.
Examples of types of food processors have been included in Table A of 18 AAC 31.010(e), rather than including them in the definition.
I see there are changes to the requirements for Hazard Analysis Critical Control Point (HACCP) plans. What is different?
This section has been revised to follow more closely to the language in the FDA Model Food Code.  The requirements have also been simplified to be more practically implemented by a retail food operation. The changes clarify what establishments and processes that need HACCP plans.
Why were the requirements for HACCP plans and reduced oxygen packaging relocated to a different article of the regulations?
With the adoption of 21 CFR 117, food processors who are not eligible for qualified or very small facility exemptions will be subject to the food safety plan requirements located there. Very small facilities that are not required to develop a food safety plan may still be required to have a HACCP plan. For non-food processors who, in addition to their food service or market activities, also process foods that have historically resulted in foodborne illness than standard processes, such as smoking, curing or acidifying for food preservation, or use reduced oxygen packaging, the current requirement will continue to apply.  Since the HACCP plan and reduced oxygen packaging requirements may apply to any type of facility (food service, market, or food processor), it was relocated from Article 7 (Food Processing) to Article 2 (Food Care) for clarity.
How are the Alaska requirements for food processors different from the federal requirements in 21 CFR 117?
The proposed amendments include more details for recall plans and procedures to help processors carry out more effective recalls.
Small businesses not required to have a food safety plan in 21 CFR 117 may still need to have a HACCP plan if they process food using processes such as smoking, curing or acidifying for food preservation, or use reduced oxygen packaging.
Why are there more detailed requirements for recall plans?
18 AAC 31.700 currently requires that food processing establishment develop and maintain procedures for notifying the Department and consumers of a product recall, and to implement those procedures for any product that the operator or Department knows or has reason to believe might cause illness. 
The Department's intent in revising this section and adding more detail to the existing requirements was to be clearer about what should be included in recall procedures so that food establishments will be prepared and more effectively and quickly remove potentially dangerous or adulterated product from distribution.
It seems like there are a lot of new CFRs adopted by reference. Why so many?
The CFRs that are being added to the adopted by reference section should have no effect on operations. The reason for this is that the FDA standards already apply, and these standards are merely making more specific already existing regulations dealing with adulterated and misbranded products. These CFRs include provisions dealing with safe direct and indirect food additives, color additives, substances prohibited from use in food, and standards of identity.
I have an establishment that serves shellstock. Why has this requirement been added and what will I need to do?
There has been an increase in illnesses related to shellfish in Alaska, particularly with Vibrio parahaemolyticus. Recording the date that a container is emptied on the shellfish tags will make it easier during illness investigations to identify which containers of shellstock were sold or served on a specific date, and to accurately and quickly identify the growing area of the suspect shellfish.
Operators of food establishments who sell or serve shellstock will need to record on the shellfish tag the date that the last shellfish from a container was sold or served.  There is now a space on the shellfish tag to record this information.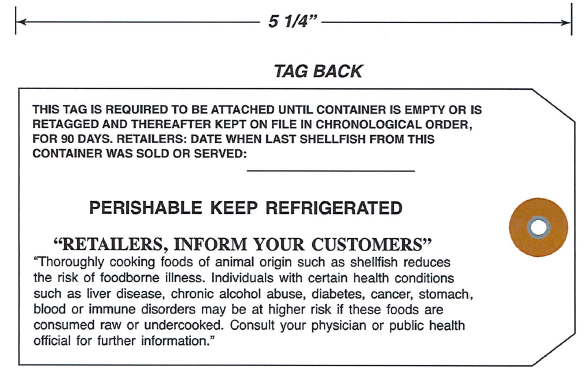 What are the new requirements for reduced oxygen packaging at food services or markets?
The section was relocated to Article 2 to be more clear that these requirements are applicable to food services and markets, not just food processors. They are currently located in Article 7 (Food Processing) which could be confusing because that article is related to food processing operations.
When moving the section dealing with reduced oxygen packaging to Article 2, several changes were made, including:
Allowing more flexibility to allow some foods to be reduced oxygen packaged without the requirement of a HACCP plan;
Lengthening the time from 14 days to 30 days that reduced oxygen packaged food can be held; and
Adding new requirements specific to foods that are prepared using "quick chill" or "sous vide" methods, to reduce the risk of Clostridium botulinum or Listeria.
How do I submit comments on these proposed regulations?
Comments from the public and the regulated industry on the proposed regulation changes will be greatly appreciated. There are several ways to submit comments, including:
Online: Submit Comments
Mail:      Lorinda Lhotka, Department of Environmental Conservation, 610 University Avenue, Fairbanks, AK 99709
Email:    lorinda.lhotka@alaska.gov
Fax:        907-451-5120
The comments must be received not later than 5:00pm on January 10, 2020.
We do not respond individually to comments on proposed regulations changes. After we have a chance to review the written comments received and then consider them in deciding what changes (if any) to make in our regulations, we will prepare a summary of the comments and our responses to them, which will be mailed to everyone who submits a timely written comment on the proposed changes and provides a return mailing address.
If you are a person with a disability who needs a special accommodation in order to participate in this process, please contact Kate Orozco by email at kate.orozco@alaska.gov or by phone at 907-465-6171 or TDD Relay Service 1-800-770-8973/TTY or dial 711 not later than December 27, 2019 to ensure that any necessary accommodations can be provided.
13. What if I have another question that is not answered here?
DEC will respond to questions that are relevant to the proposed changes if the questions are received in writing at least ten days before the end of the public comment period. If questions are submitted after that, we may, but we are not required to, respond to those questions. The questions and answers will be available on the Department of Environmental Conservation's website at https://dec.alaska.gov/eh/fss/regulations. One consolidated answer may be provided for a group of questions that are similar, as appropriate.

Indicates an external site.