Know Before You Dig - Recreational Shellfish Harvest
There are no beaches that are certified or designated as "safe" beaches for shellfish harvesting in Alaska. All recreationally-harvested shellfish- including clams, mussels, oysters, geoducks, and scallops - may contain paralytic shellfish toxin (PST) that, if ingested, can cause death.
If you choose to harvest shellfish in Alaska, it is important that you know the facts about PST, know the species you plan to harvest, and know the symptoms of paralytic shellfish poisoning and get help quickly!
Get medical help immediately if you experience nausea, vomiting, diarrhea, abdominal pain, and tingling or burning lips, gums, tongue, face, neck, arms, legs, and toes, shortness of breath, dry mouth, a choking feeling, confused or slurred speech, and lack of coordination.
In The News
Know The Facts
Know The Species
Know The Symptoms
Alaska Links
Resources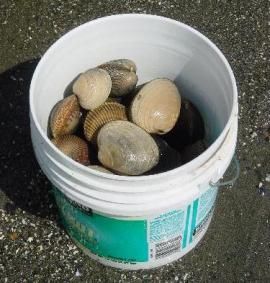 Indicates an external site.