Auke Lake
Introduction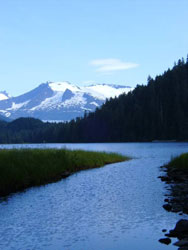 Auke Lake is located 10 miles northwest of Juneau, Alaska. The lake outlet, Auke Creek, discharges into Auke Bay. The lake has a surface area of approximately 177 acres and a maximum depth of 113 feet. The headwaters include Lake Creek, Lake Two Creek and unnamed drainages from Goat Hill and Peterson Hill. The Auke Lake watershed drains an area of 2,500 acres. Auke Lake is an anadromous system supporting coho, sockeye, pink and chum salmon, as well as cutthroat and rainbow trout, and Dolly Varden char. The undeveloped areas of the watershed include Sitka spruce and Western hemlock forest intermixed with wetlands, which support a variety of wildlife including water fowl and birds, beavers, river otters, Sitka black-tailed deer, and black bear.
Auke Lake a popular recreational area used for swimming, motorized and non-motorized boating, hiking, running, and biking. The boat launch and parking area, on the lake's southwest corner, is a designated City and Borough of Juneau (CBJ) Recreation Service Park. Auke Lake Trail is a CBJ owned trail that parallels the western edge of the lake, and provides access to floating docks.
Water Quality Summary
There has been concern about the lake's water quality associated with motorized water craft use. This concern prompted water quality studies to evaluate petroleum hydrocarbon associated with lake recreational use. The studies show that days of elevated air temperatures and heaviest motorized use on the lake correlate with the highest levels of petroleum hydrocarbon concentrations.
Recent Actions
In 2013 and 2014, the Juneau Watershed Partnership using an Alaska Clean Water Actions grant conducted water quality sampling and user surveys. The water quality sampling targeted days when a high number of motorized users were present on the lake. The user survey recorded the number of users, types of usage, and location of primary use.
Contact

Indicates an external site.