Big Lake Water Quality
Background
Big Lake is listed as impaired (polluted) for elevated levels of petroleum hydrocarbons (gasoline). The gasoline pollution is from boat and personal use watercraft motors. The gasoline pollution is primarily in the lake's east basin and on days experiencing a lot of motorized activity. Big Lake has a waterbody recovery plan, also known as a Total Maximum Daily Load (TMDL), to address the gasoline pollution. The TMDL, water quality monitoring reports, and other clean boating reports are linked in the Of Interest box to the right.
Gasoline and Aquatic Life
Compounds in gasoline are highly toxic and tend to accumulate in the fats and oils of organisms. This can impact or kill aquatic organisms such as insects that serve as a food source for fish and wildlife like ducks and loons. The negative effects of gasoline can move up the food chain from the aquatic insects to fish to wildlife and potentially to humans. Polluted water can also affect fish and wildlife through direct contact and consumption of polluted lake water. Because gasoline contains known cancer causing compounds (carcinogens) such as Benzene and Benzo(a)pyrene, controlling their concentration in Big Lake is important not only to protecting the environment but ultimately human health.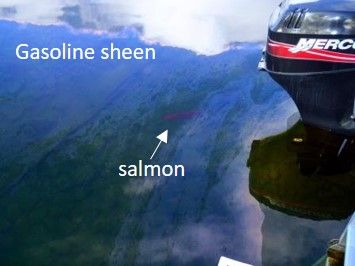 What will help fix the gasoline pollution?
Reducing the amount of gasoline discharging to Big Lake will have immediate benefits in improving water quality. The combustion process of gasoline motors is designed to directly release unburned gasoline out of the exhaust into the water. Older carbureted 2-stroke motors release much more unburned gasoline than direct fuel injected 2-stroke motors or 4-stroke motors. When more carbureted 2-stroke motors are operating on the lake at any given time, more gasoline is entering the lake and water quality is being degraded.
DEC has led efforts for a Clean Boating campaign for several years. Clean boating includes each boater or jet skier thinking of ways they can individually help improve water quality. Actions include easy things like not fueling in the water unless using special absorbent materials to help catch any drips or spills before it gets to the lake. These absorbent materials can also be used in the bilge water to soak up any petroleum products before pulling the plug. Of course the most dramatic clean boating fix is having less carbureted 2-stroke motors operating on the lake.
Contact DEC for more clean boating tips and resources!
Contact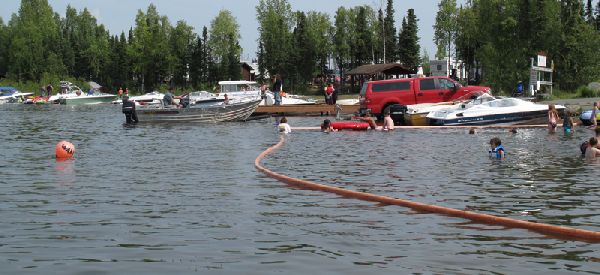 Indicates an external site.