Chena River Watershed
Background Information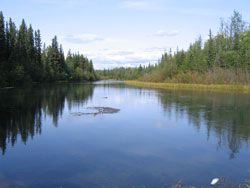 Three waterbodies in the Chena Watershed are considered high priority waterbodies through the Alaska Clean Water Actions (ACWA) ranking process because of concerns with water quality. The Chena River, Chena Slough and Noyes Sloughs were listed as impaired (polluted) from petroleum hydrocarbons, oil and grease and for sediment in the early 1990s. Noyes Slough was also listed as polluted from residues (debris or trash). These waters provide important habitat to Chinook salmon, chum salmon, and arctic grayling. Urban run-off is considered the primary source of pollution.
Multi-agency and community wide clean-up efforts and restoration planning have improved water quality significantly. Detailed examples of these activities and the current pollution status of each waterbody are described further below
Chena River Watershed Resource Action Planning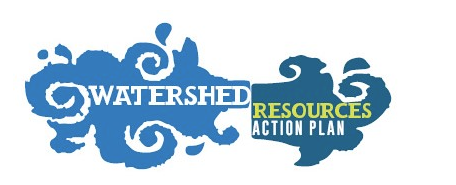 The Watershed Resources Action Plan process included three, 2.5-day workshops with the planning team to target areas in the Chena River Watershed (focusing on ecosystem-level resources), assess current and projected future health of the resources, identify critical threats, and develop conservation strategies to enhance health and abate threats.  The workshops were held in November of 2014, February of 2015 and April of 2015. The group identified seven objectives and associated actions to improve the health of the Chena River. More information and a draft summary of the Watershed Resource Action Plan can be found at: www.escapewrap.com


Green Infrastructure
"Green infrastructure" is used in communities throughout the United States. The concept uses approaches to land development (or redevelopment) that work with nature to manage stormwater as close to its source as possible. These strategies use careful site design and decentralized stormwater management to reduce the environmental footprint of new growth.
Some benefits from increased green infrastructure
reduce polluted run-off to rivers and streams
increase rainwater and snowmelt infiltration into the ground
reduce pressure on the city's storm-water system
prevent erosion
DEC convenes the multi-agency Fairbanks Green Infrastructure Group (GIG) and has provided funding to several projects to implement Green Infrastructure around Fairbanks. The Fairbanks GIG works to renew a cleaner and healthier watershed by making green infrastructure a common practice for home and business owners. Through community support and involvement, GIG promotes sustainable use of our natural environment for the benefit of past and future generations.
The Fairbanks GIG is composed of a diverse group of partners that share a common goal of a healthy watershed. GIG supports many micro scale green infrastructure projects because they serve as examples of how small projects are important to bigger planning goals for the community. As a group, GIG can share costs and resources, and more effectively implement projects.
Examples of some of the projects include:
Shoreway Park – Streambank Revegetation
Improvements were made at Shoreway Park in 2013 through a collaborative effort by local, state, federal, and non-profit partners. A concrete chute was removed, the river bank was restored, a catch basin was installed for parking lot run-off, and a missing segment of pedestrian pathway constructed to improve connectivity to and from the park.
Before: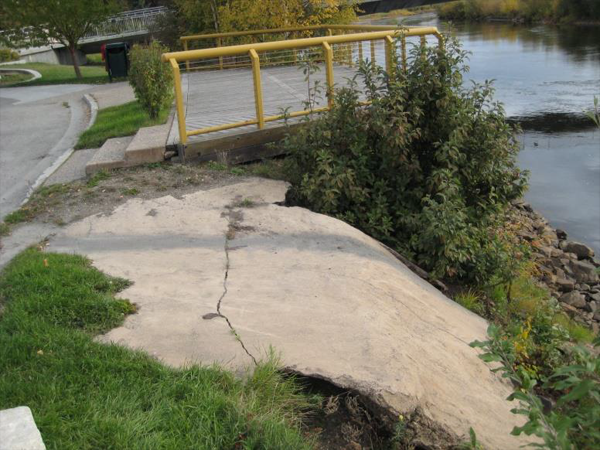 During: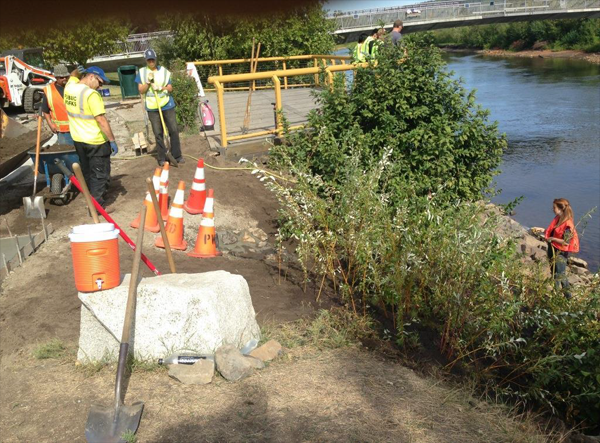 After: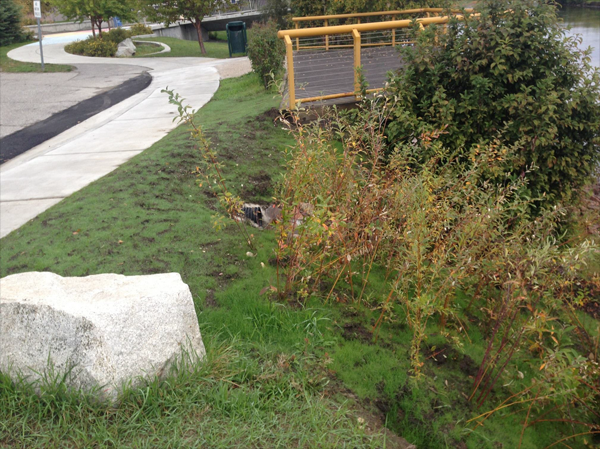 Carlson Center – Streambank Revegetation and Rain Garden
Green infrastructure projects were implemented to reduce parking lot runoff and prevent streambank erosion. In 2013, one part of the bank was revegetated. In 2014, a rain garden and educational signage were installed.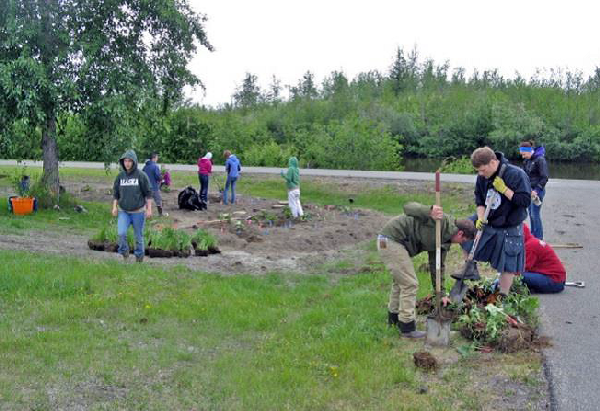 Green Infrastructure Guide
In 2011, GIG worked with the Cold Climate Housing Resource Center to develop a guide for homeowners. The guide outlines ten different types of green infrastructure projects that are well-suited to the Fairbanks area. It includes detailed designs and step by step instructions.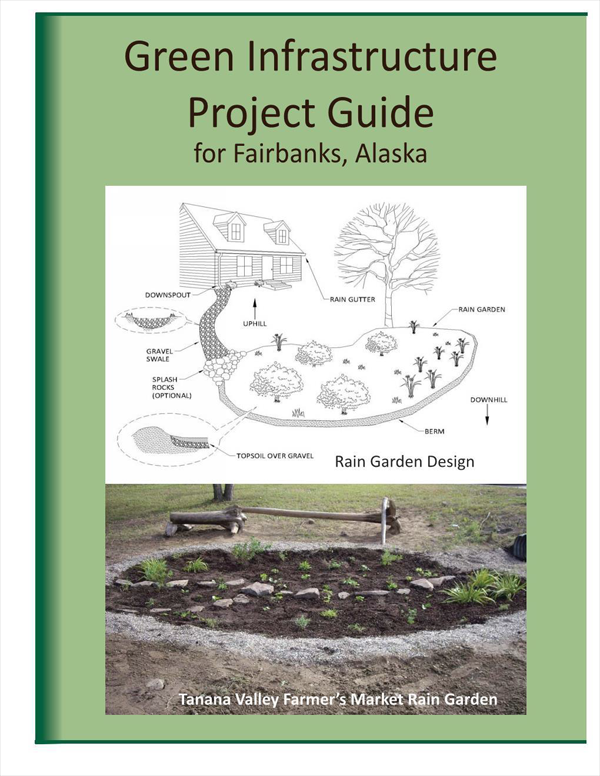 Complete Streets – Complementary Green Infrastructure Projects
Several green infrastructure projects, including rain gardens, permeable pavers and flow-through planters were installed at businesses downtown adjacent to Cushman St. Projects were planned to coincide with the Complete Streets improvements and provide additional on-site stormwater benefits.
Before: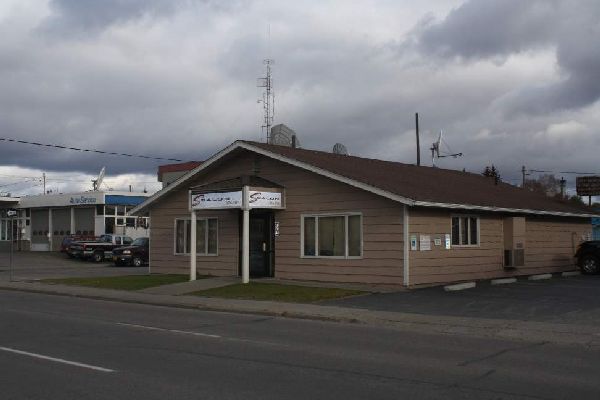 After: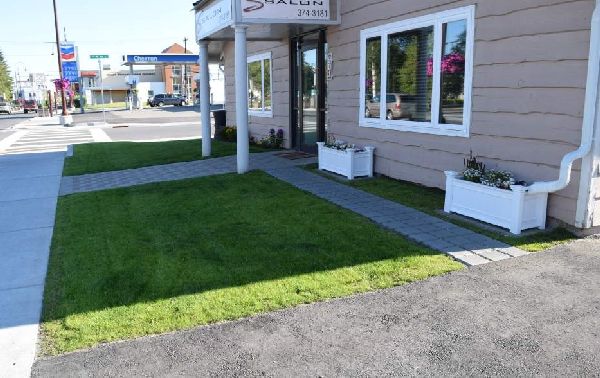 Sediment in the Chena River, Chena Slough & Noyes Slough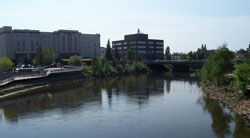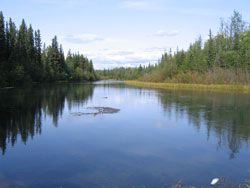 The Chena River, Chena Slough and Noyes Slough have all been considered to be polluted from excessive sediment derived from stormwater sources since the early 1990s, but recent data shows that the waterbodies are now meeting the sediment criteria. An excess amount of sediment can smother the habitat aquatic life needs to survive. The Tanana Valley Watershed Association (TVWA) was awarded an ACWA grant from DEC in FY 2012 to collect data to evaluate the current water quality conditions with respect to sediment and what actions can help improve conditions in the watershed. Based on the data that TVWA collected, DEC has proposed removing all three waterbodies from the impaired waters list.
Petroleum Hydrocarbons, Oil and Grease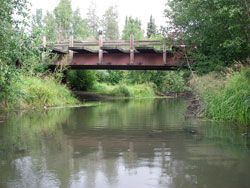 Data from DEC's 2005, 2007, and 2009 sampling efforts showed that the Chena River and Chena Slough are meeting water quality standards for petroleum hydrocarbons, oil and grease. In 2010, the Chena River and Chena Slough were removed from the impaired waters list for petroleum hydrocarbons, oil and grease. Due to the persistent occurrence of sheens observed on Noyes Slough, it is still considered impaired. In 2011 DEC completed a total maximum daily load (TMDL) document for petroleum hydrocarbons, oil and sheens to address the sheens in the slough. The TMDL includes strategies for reducing the presence of sheens in Noyes Slough.

Final Noyes Slough TMDL for Petroleum Hydrocarbons, Oil and Grease
Debris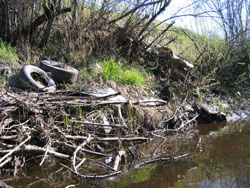 In 2008 DEC completed a TMDL document for residues (debris) in Noyes Slough. Debris in the slough includes appliances, scrap building material, concrete and asphalt, shopping carts, litter and tires. The TMDL document addresses efforts to reduce human-caused debris that gets to the slough from urban run-off and dumping.

Final Noyes Slough TMDL for Debris
Contact

Indicates an external site.