Lake Lucille Quality Monitoring
Summary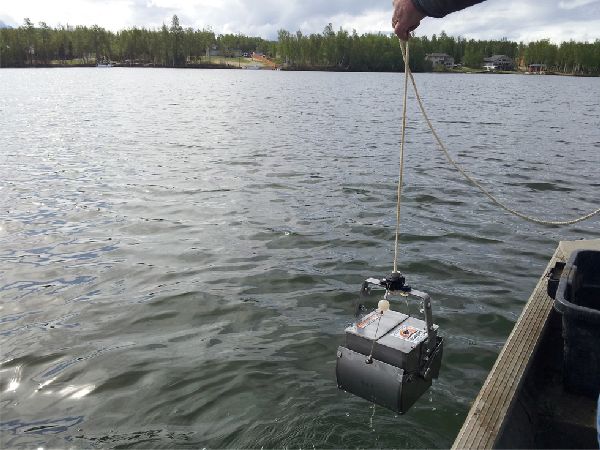 Lake Lucille is proposed for listing as impaired (polluted) for metals in lake bed sediments. The metals are coming from stormwater discharging to the lake through two outfall pipes. The metals collect on roadways and parking lots and get washed into the lake during rain storms or snow melt. The water quality monitoring reports are linked in the Of Interest box to the right.
Lake Lucille is currently an impaired waterbody for low dissolved oxygen and has an EPA approved Total Maximum Daily Load water quality plan that was completed in 2002.
Additional Information
DEC has conducted several field seasons of water quality sampling during open water periods and in 2006 conducted under ice dissolved oxygen sampling. The water quality assessments conducted by DEC in 2004-2005 evaluated nutrients (nitrogen, phosphorous, & chlorophyll a), bacteria, petroleum hydrocarbons, and other basic field parameters such as pH, conductivity, temperature and dissolved oxygen.
Starting in 2011 – 2012 the DEC conducted a stormwater assessment on Wasilla Creek, Cottonwood Creek, Little Meadow Creek, Meadow Creek and at the stormwater discharge outfall at the east end of Lake Lucille. This larger study led to a more intensive study in the summer of 2013 of Lake Lucille lake bed sediments. The study focus was on metals (copper, lead, zinc) and petroleum hydrocarbon (polycyclic aromatic hydrocarbon) pollutants being discharged to the lake through the two stormwater discharge outfalls and collecting in the lake bed sediments where fish and invertebrates come into contact with and take in these pollutants. These pollutants are typical stormwater pollutants that come off of roads and urban areas and in the case of Lake Lucille, are discharged to the lake through the two stormwater outfalls.
DEC continues to work with the community, the City of Wasilla and state DOT on Lake Lucille in order to achieve long-term water quality improvements. For information on the annual work requested on the lake, please see the ACWA waterbody actions.
Contact

Indicates an external site.