ACWA Waterbody Process
The Alaska's Clean Water Actions ( ACWA) decision tree outlines a process to:
Determine if waterbodies are adequately protected.
Identify and prioritize waterbodies-at-risk for additional protection action.
Identify and prioritize waterbodies needing recovery for restoration or remediation action.
In the Nomination Phase individual waterbodies nominated by the public and agencies are reviewed and entered into the ACWA database (or returned to the nominator for additional information).
In the Analysis Phase each waterbody is analyzed to determine:
Whether existing stewardship programs are adequate to maintain and protect the waterbody
Whether available data is sufficient to determine the existence or extent of a current or potential problem.
The analysis phase directs waterbodies to three possible actions or outputs:
Waterbodies that are adequately protected
Waterbodies requiring additional data
Waterbodies that require additional protection or recovery.
Waterbodies-at-risk and waterbodies needing recovery, are addressed in the Action Phase by:
Prioritizing individual waterbodies for action
Identifying and implementing protection or recovery actions
Evaluating the success of protection/recovery actions and directing the waterbody for additional information, continued monitoring or additional protection/recovery actions.
During all phases, additional data needs may be identified, sending the waterbody to the data collection track.
Nomination Phase
Waterbodies are brought to the attention of the agencies by any member of the public or agency staff. The nominator provides a set of required information for entry into the ACWA database through a nomination form. Missing information may be requested from the nominator which will delay entry into the database.
Analysis Phase
A successfully nominated waterbody will undergo a series of determinations using established criteria to assess the adequacy and credibility of the associated data available for the waterbody, the adequacy of existing stewardship programs currently in place to protect and maintain the waterbody and if any specific recovery actions are required. Off ramps are provided that assure appropriate attention including use of routine stewardship programs and healthy waterbodies nominated specifically for monitoring.
Action Phase
Waterbodies are priority ranked into one or more categories, including: Data Collection & Monitoring, Waterbodies at Risk and Waterbody Recovery. Specific next-step, action requirements are identified for each waterbody and implemented as available resources permit and in concert with its established priority.
The ACWA Decision Tree diagrams the flow of information, pathways and critical decision points for the application of key criteria associated with a decision. The diagram is read left-to-right. Common objects are color-coded to simplify and help organize understanding.
Each object in the ACWA Decision Tree diagram is identified with an alpha-numeric character(s) near the upper part of the object. The alpha-numeric identifier is keyed to additional narrative description that further characterizes the objects purpose or function. In this document, references to a Decision Tree object will be alpha-numerically referenced in parentheses ( ) following the descriptive reference.
The ACWA Decision Tree is segmented top-to-bottom, using alphabetical-only designators, into three primary tracks:
Data Collection & Monitoring Track (D.)
Assessment Track (F.)
Stewardship Implementation Track (E.)
The Assessment Track (F.) is further segmented horizontally, left-to-right, into three different phases, as:
Nomination Phase (A.)
Analysis Phase (B.)
Action Phase (C.)
The ACWA Decision Tree process starts in the Assessment Track (F.) and Nomination Phase (A.) with the Waterbody Nomination (1). End results yield three sets of ranked waterbodies and one set of unranked waterbodies, each requiring a unique set of stewardship action(s). The ranked waterbodies are categorized as:
Data Collection & Monitoring (5A)
Waterbodies At Risk (8A)
Waterbody Recovery (9A)
A fourth set of unranked waterbodies residing in the Stewardship Track also results, categorized as:
Adequately Protected Waterbodies (15A)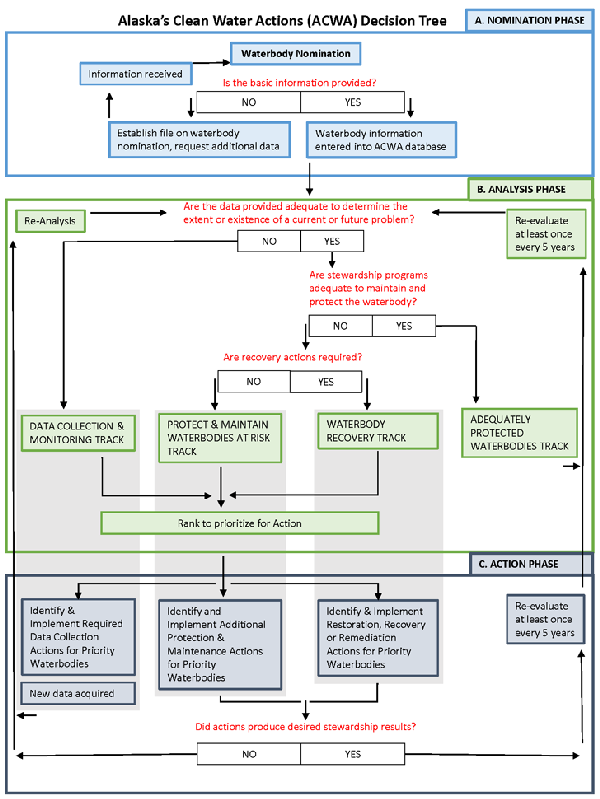 Indicates an external site.