Alaska Monitoring and Assessment Program Bioassessment
What is it?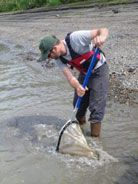 A biological assessment or bioassessment is a way of evaluating the health of specific waterbodies. A bioassessment involves evaluating cumulative factors such as the presence, condition and numbers of types of fish, insects, algae, and plants, along with physical habitat measurements. Since the late 1990's, the major focus in Alaska has been developing the protocols and procedures to monitor the biological health of Alaska's streams and to establish baseline biological conditions in different regions of the state. This work is being done in partnership with the University of Alaska Anchorage – Alaska Natural Heritage Program.
One of the most meaningful ways to answer basic questions about the quality of Alaska's waters is to observe directly the communities of plants and animals that live in them. Because aquatic plants and animals are constantly exposed to the effects of various stressors, these communities reflect not only current conditions, but also stresses and changes in conditions over time as well as their cumulative impacts.
How is bioassessment data used?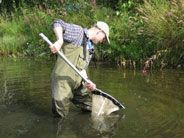 By themselves, traditional chemical, physical and toxicity assessments cannot fully answer questions about the ecological integrity of a waterbody, or determine whether aquatic resources are being protected. Bioassessment data can help distinguish among potential stressors to an aquatic ecosystem as part of an integrated water quality sampling plan. This data can then be used it to set protection and restoration goals, to identify stresses to the waterbody, and to assess and report on the effectiveness of management actions as reflected in the responses of biological communities.
Multimetric biological indices have been developed for two regions in Alaska, the Alexander Archipelago streams and the Cook Inlet Basin streams, and a baseline biological condition report is underway for the Kvichak and Nushagak watersheds (SW Bristol Bay) region. Multimetric indices use multiple data sets, or metrics to evaluate and predict waterbody health based on disturbances within the watershed. In SW Bristol Bay region, the lack of impacted waterbodies prevents the development of a biological index; in this region the baseline condition will be reported instead. See the Resources section for available reports.

Indicates an external site.