M/V Cougar Ace
Location

The vessel position as of 8:00AM, July 28, 2006 was 49o 51.1 N, 173o 07.1 W. The vessel has been drifting in a northern direction (Set 032°T @ 1.5 kts) and is approximately 130 miles south of the Aleutian island of Amlia.

Time/Date

1:15 PM September 1, 2006.

Spill Id

06259920501

Product/ Quantity

A small sheen of what appeared to be lubricating oil was stopped from the vessel's bow thruster area on August 2, 2006. The vessel is carrying a reported 142,184 gallons of Intermediate Fuel Oil (IFO) 380 and 34,182 gallons of Marine Diesel Oil (MDO) as estimated by the PRP. Former estimates did not account for fuel remaining in tanks prior to bunkering. The vessel is reported to be carrying approximately 4,813 vehicles as cargo. An undetermined amount of lubricant and transmission fluids spilled from the vehicles onto the cargo decks while the vessel was heeled over.

Cause

The cause of the sheen from the bow thruster area has not been determined.
ADEC Situation Reports
Additional Documents
Incident Action Plans
Trajectory Analysis
Vessel Schematics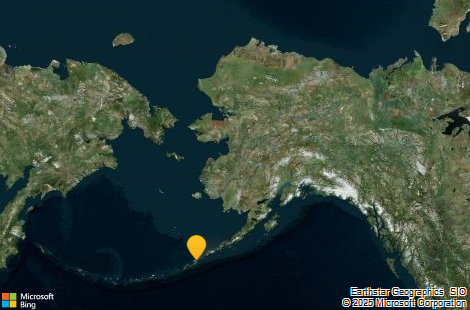 Contact Information
Incident Description
On July 23, the M/V Cougar Ace, a 654-foot car carrier homeported in Singapore, contacted the US Coast Guard and reported that their vessel was listing at 80 degrees and taking on water. The Alaska Air National Guard and Coast Guard aircraft crews rescued the 23 crewmembers on July 24. 
Photos
Images may be downloaded for free and used in publications provided credit is given to the source.
Photos of the Cougar Ace and salvage operations, 7/26 - 7/30
---
Photos of the Cougar Ace in Wide Bay - August 8, 2006
---
Photos of the Cougar Ace in Wide Bay - Augusts 10, 2006
---
Photos of the Cougar Ace in Wide Bay, 8/12-8/13
---
Photos taken 8/14-8/15
---
Cougar Ace departs Unalaska - September 1, 2006

Indicates an external site.