Micro Loans for Water, Wastewater, Solid Waste, and Nonpoint Source Projects
Micro Loans 
Rural municipalities may be eligible to receive a low interest Micro Loan of up to $500,000 with a repayment term of up to 30 years and significant subsidy in the form of principal forgiveness. Loan funds may be used for water, wastewater, solid waste, and nonpoint source projects. Eligible project types include planning, design, construction, and energy efficiency improvements.
Eligible communities can apply for a Micro Loan at any time, and applications will be scored and prioritized on a quarterly basis. The level of principal forgiveness depends on the community's Operations and Maintenance Best Practices (BP) Score and the affordability of the community's utility rates. Communities may choose to administer their own projects, or they may be administered by the community's assigned Village Safe Water (VSW) or Alaska Native Tribal Health Consortium (ANTHC) project engineer.
Community Eligibility
To be eligible to apply for Micro Loan funding, a community must be:
A municipality; and
Eligible for VSW funding under the Village Safe Water Act.
Projects that receive assistance from the tribal set-aside program for Indian Tribes and Alaska Native Villages under the Safe Drinking Water Act §1452(i) are not eligible to receive a Micro Loan.
Best Practices Score
Before a loan offer will be extended, a community must also demonstrate sufficient technical, financial, and managerial capacity by maintaining an Operations and Maintenance Best Practices score of at least 50 total points, including minimum scores in the following categories: 
Utility Management Training - 5 points
Budget - 13 points
Revenue - 15 points
Payroll Tax Liability - 2 points
Workers Compensation Insurance - 2 points
Current Operations and Maintenance Best Practices Scores
Principal Forgiveness
All Micro Loan project applications will be scored and ranked. Subsidy, in the form of principal forgiveness, will be awarded based on project ranking. The amount of subsidy offered for each project will be determined based on the community's capacity, as demonstrated by the Best Practices Score, and the Affordability of the utility's current user rates. A High Burden will be assumed for all unserved or underserved communities when considering affordability for the purposes of awarding subsidy. The following table illustrates the subsidy matrix: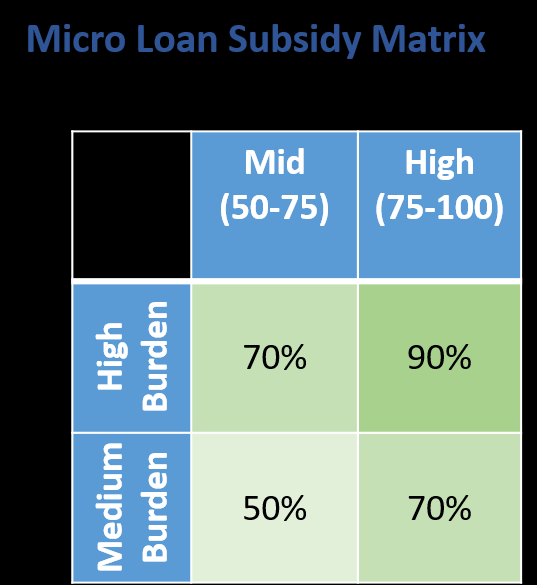 Applications
Micro Loan applications can be submitted at any time, and will be scored on a quarterly basis. Deadlines for quarterly application review and scoring are: February 28, May 31, August 31, and November 30.

PDF versions of the application are available here: Print Only or PDF Fillable (can be saved on your computer)

Scoring criteria are available at the following links:
three ways to submit an application are listed below. Please note that applications submitted via fax will not be accepted.
Email a signed copy of the application and all attachments to the SRF Program office at dec.srfmicroloan@alaska.gov.
In person - Drop off a signed application, including all attachments, at the Anchorage SRF Program office at 555 Cordova Street, 4th Floor.
Mail the signed application and all attachments to the SRF Program office at the following address: Alaska Department of Environmental Conservation, SRF Program, 555 Cordova Street 4th Floor, Anchorage, AK  99501.
Questions?
If you have questions about the eligibility of a project or how to prepare and submit a Micro Loan application, contact the SRF Program at dec.srfmicroloan@alaska.gov.
Useful Links
Application Links

Indicates an external site.