Affordability of Alaska Village Water and Sewer Household Rates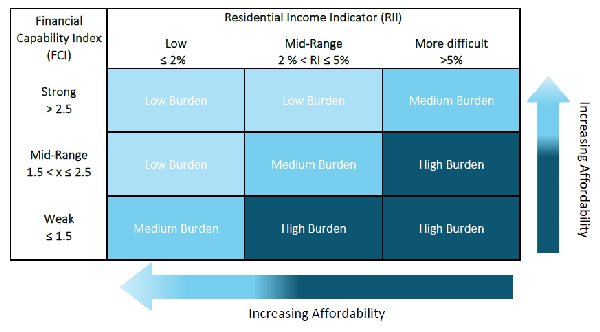 The Alaska Department of Environmental Conservation (DEC) has developed a new affordability indicator for use in determining whether a community's users can afford the annual operation, maintenance, repair, equipment and capital replacement costs of their water, waste water, or solid waste facilities. Unlike the use of the median household income (MHI) to determine affordability, which only looks at a snapshot in time of income, the new model looks at important socioeconomic factors that affect actual affordability. It includes a Residential Indicator (RI) and a Financial Capability Index (FCI). RI is obtained by dividing the community's annual user fee by each income quintile value. FCI is composed of socioeconomic indicators chosen for their ability to detail the situation in rural Alaska. The FCI value is obtained by calculating the average of score assigned to the indicators based on pre-established thresholds.
Affordability indicator methodology (PDF)
Alaska Village Rate Affordability Index
Useful Links

Indicates an external site.