Northwest Arctic Geographic Response Strategies: Saint Lawrence Island Zone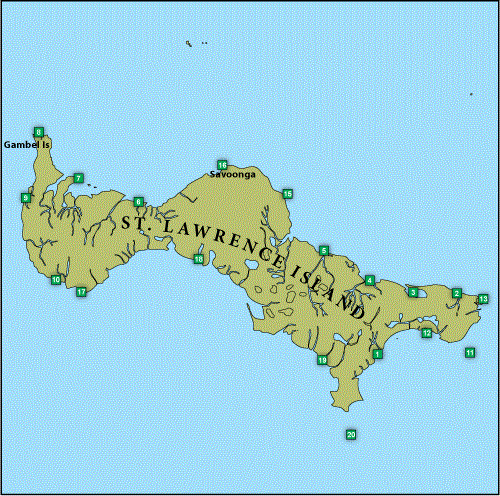 Site Selection
The Saint Lawrence Island Zone of the Northwest Arctic Subarea is depicted on the map above. The green boxes are placed in areas where a Geographic Response Strategy (GRS) has been developed. The sites are also listed in a Site Selection Matrix (PDF 104K).
The Geographic Response Strategies (GRS) and tactics described on this site and in the subarea plans, are NOT prescriptive in nature. They are recommended deployment configurations for initial responders. They can, and should, be adjusted to fit the current situation and environmental conditions.
A detailed description of the GRS site selection process (PDF 157K) can also be found by following the link under the GRS Links section.
Northwest Arctic, Saint Lawrence Island GRS