Radioisotopes in Fish Caught in Alaska Waters
Fish samples collected: 2014-2021
Concentration in Bacquerel per kilogram (Bq/kg) wet weight
ND = Non-detect
Summary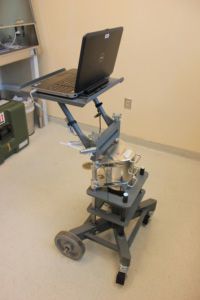 Beginning in 2014, the Alaska Department of Environmental Conservation, Division of Environmental Health, in collaboration with the Department of Health and Social Services and the FDA has tested fish samples collected in Alaskan waters for cesium-134, cesium-137 and iodine-131 radioisotopes. The Fish Monitoring Program developed the sampling plan for this project in order to collect relevant species from important fishery areas around the State. All samples tested by the FDA through September 9, 2021 resulted in non-detects.
Starting in 2016, samples have been analyzed in-state at the Environmental Health Laboratory (EHL) using a Portable Gamma Ray Analyzer developed by the FDA and Canberra. The sample is analyzed here at the EHL, and the results are sent to FDA scientists at the Winchester Engineering and Analytical Center for interpretation. This allows for much quicker turnaround time resulting in more timely results. Additionally, if the need arises, this instrument would allow for effective, in-state assessment and monitoring of Cs-134 and Cs-137.
Note:
Results reported in Becquerel per kilogram (Bq/kg)
I-131 testing was discontinued after 2016 due to its short half-life
DIL = Derived Intervention Levels, used by FDA to determine safety concern. For Cs-134 + Cs-137 DIL = 1,200 Bq/kg
ND = not detected at Minimum Detection Concentration (MDC)
AI-BS = Aleutian Islands/Bering Sea

Indicates an external site.