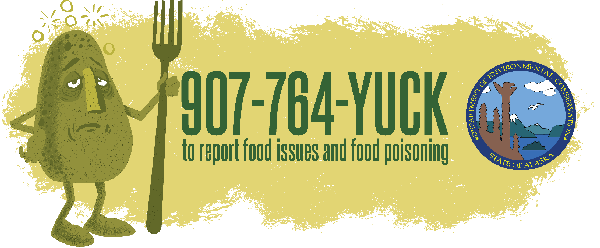 Why Should I Call the Yuck-Line?
Your call to the Yuck-line will help us identify foodborne and waterborne illness outbreaks in Alaska, and it helps prevent the spread of illness to others.
What Do I Need to Know Before I Call?
Before you call, you should know:
Foodborne illness often occurs 1 to 4 days after eating contaminated foods.
Waterborne illness usually occurs 2 to 14 days after contact with contaminated water.
The interview will take 20 to 30 minutes and includes questions about your illness symptoms.
Yuck-line staff will ask you about foods eaten and where you ate them; it is helpful if you can remember foods from 4 days before your illness began.
Yuck-line staff will also ask if you drank any well water or went swimming in the 2 weeks before your illness.
All information we collect about your illness is private. We will not release your name to anyone outside the public health system without your permission.
How Do I Report a Suspected Foodborne Illness?
Call or text the Yuck-line at 907-764-9825 (YUCK); the line is staffed from 8 a.m. to 4:00 p.m. Monday through Friday (not including holidays). For Anchorage area only call 907-343-4200.
If someone is not available to take your call, please leave a confidential voice message with your name and daytime telephone number. We will return all messages left after normal business hours the next working day.
You may also email your illness report to ak.food.poisoning@alaska.gov. Please include your name and daytime telephone number in your message.
You can also report foodborne illness online.
What Happens After I Call?
After your interview we will investigate the suspected source of illness and take steps to prevent further or repeated spread.

Indicates an external site.