Fort Greely, U.S. Army Garrison Alaska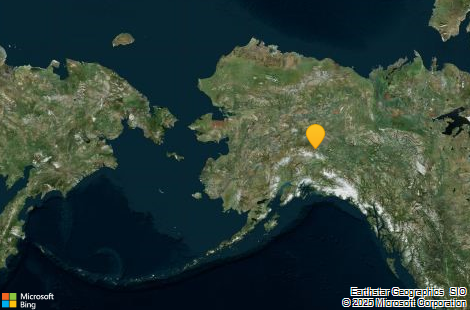 Database Name: Fort Greely
Status: Open
Location: Delta Junction
Latitude: 63.973772
Longitude: -145.716144
This site has a Restoration Advisory Board, which involves the community.
DEC Contaminated Sites contact: Erica Blake, Project Manager, 907-451-2182 (Fairbanks)
Click on photos or maps for larger versions.
Contacts updated: 4/4/2019
Summary updated: 4/4/2019
Site Narrative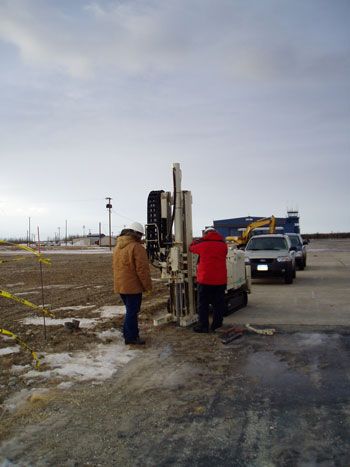 Contractors use direct push techniques to collect soil samples at Fort Greely
Background
Fort Greely, Alaska (FGA) is located approximately 100 miles southeast of Fairbanks, Alaska, and approximately 5 miles south of the City of Delta Junction on the Richardson Highway in Interior Alaska.
FGA was established in 1942 as an Army Air Corp base that served as a staging area for aircraft being ferried over to Russia during World War II. Fort Greely was deactivated in 1945 but was reactivated in 1947 as an army post for United States (U.S.) army troops. In 1949, the Army established a cold regions testing center to test how all types of Army equipment performed in extremely cold regions. A nuclear reactor was built in the early 1960s and it provided the post's power until 1972. The post was designated as Fort Greely in 1955.
In 1995, FGA was selected for the Base Realignment and Closure (BRAC) Program, which began the partial closure of the base. The post was broken into parcels (each assigned a BRAC number). The BRAC closure process was stopped at FGA in 2002 when the Missile Defense Agency selected FGA as one of the locations to deploy a ground-based missile defense system. The U.S. Army Space and Missile Defense Command (USASMDC) put FGA back up as an active installation and continued with the installation restoration process. FGA's training ranges were transferred to Fort Wainwright as part of the BRAC realignment and FGA is now approximately 7,000 acres in size (previously 640,000 acres).
In June of 2003, USASMDC organized a meeting with past and current environmental personnel involved with FGA to list all sites on FGA where there was suspected or confirmed contamination. The list of 132 sites originated from examination of all BRAC parcels, the U.S. Environmental Protection Agency's (USEPA) Solid Waste Management Units (SWMU) list, the Alaska Department of Environmental Conservation (DEC) Contaminated Sites database, and the Army Environmental Database.
On August 30, 2018, the management of Fort Greely was placed under the leadership of a Fort Wainwright-based command. With this change, Fort Wainwright-based command will be referred to as U.S. Army Garrison Alaska (USAG) going forward. Fort Greely will continue to be referred to as U.S. Army Garrison Greely.
Public Health and Environmental Concerns
The contaminants at FGA mainly consist of fuel or fuel byproducts (typically from fuel spills). Other contaminants of concern (COCs) include chlorinated solvents, pesticides, dioxins, and metals. Soil sampling has revealed pesticide, dioxin, and metals contamination that has resulted from improper storage and disposal practices, burning of solid wastes, and other historical practices.
People may come in direct contact with contaminated soil or groundwater. Depending on site location, there is also potential for vapor intrusion.
For information on site-specific contaminants, visit the DEC CS Contaminated Sites Database, and using the Site Name search box, type in 'Fort Greely.'
Per- and Polyfluoroalkyl Substances (PFAS)
In 2016, two PFAS compounds, Perfluorooctane sulfonate (PFOS) and Perfluorooctanoic acid (PFOA) were added to the groundwater monitoring program at FGA. PFOS and PFOA have been detected below the DEC project action level of 0.4 micrograms per liter (µg/L) but above the EPA Health Advisory level of 0.07 µg/L in the former Fire Training Pits which are upgradient from Jarvis Creek. The U.S. Army will investigate PFAS contamination under a nationwide Department of Defense contract. The timeline for this is unknown at this time.
For more information on PFAS and FGA sites with PFAS, see links below:
Current Status
The USAG will continue with environmental investigations to cleanup Fort Greely. A Restoration Advisory Board (RAB) has been established for Fort Greely. RAB meetings typically occur on the fourth Wednesday of each April, on a yearly basis. During these RAB meetings, the U.S. Army presents information on current cleanup status, and what is planned for future cleanup efforts.
More Information
Documents
Links
U.S Army Garrison Greely Webpage. Click on the drop down menu at the top, then go to 'Environmental' for information on Fort Greely's environmental program.
Legend
| Image | Meaning |
| --- | --- |
| | Contaminated Sites |
| | Leaking Underground Tanks |
View higher resolution image (PDF 2.81K)