Gaffney Road Areawide Groundwater Investigation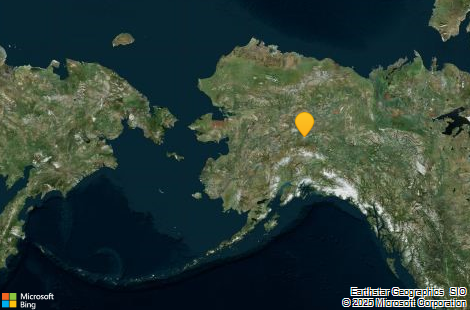 Database Name: Gaffney Road Areawide Groundwater Investigation
Status: Open
Location: Fairbanks
Latitude: 64.837738
Longitude: -147.716060
DEC Contaminated Sites contact: Jim Fish, Project Manager, 907-451-2117 (Fairbanks)
Click on photos or maps for larger versions.
Contacts updated: 4/10/2017
Summary updated: 4/10/2017
Site Narrative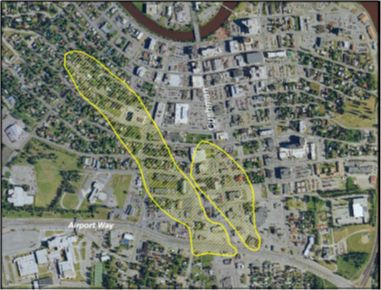 Description
Decades of commercial/industrial use and former dry cleaning operations in the area of Gaffney Road, in the City of Fairbanks, has resulted in multiple areas of soil contamination and area-wide groundwater contamination by chlorinated hydrocarbons, primarily tetrachloroethylene (PCE) and its daughter products- trichloroethene and the dichloroethenes. Groundwater investigations from 1997 to 1999 used passive soil gas studies, temporary and permanent monitoring wells, and sewer line sampling to delineate what appeared to be two groundwater plumes above regulatory limits originating in the Gaffney Road area and extending downgradient, generally north-northwest. The smaller, eastern plume exceeds 1500 feet while the longer, western plume exceeds 3000 feet in length. DEC is investigating these areas of contamination in an area-wide approach, looking at all possible sources of contaminants. There now appear to be three sources, associated with two historical dry cleaning operations and the sanitary sewer lines in the area. The wooden sewer lines may have received contaminants and subsequently distributed them to down-gradient areas through failures in the line, regular leakage, or vapor migration across the pipe into the surrounding soil and water.
Public Health and Environmental Concerns
Perchloroethylene, or PCE is a common dry cleaning solvent has contaminated the soil and groundwater. Two contaminated groundwater plumes containing PCE and its breakdown products, (trichloroethylene, and dichloroethylene, or TCE and DCE) extend from release locations on the eastern and western side of Cushman Street. Although no drinking water wells have been identified within the plume, irrigation wells are known to exist in the area. The Gaffney Road area is provided with drinking water by Golden Heart Utilities, and a City of Fairbanks ordinance requires residences to hook up to public water supply if it is provided by the Utility. In addition to the contaminant movement in the groundwater, PCE is also volatile and can move from the soil and groundwater into the air, possibly traveling into buildings affecting indoor air quality. DEC is currently operating a sub-slab depressurization system to prevent vapor intrusion into affected buildings.
Current Status
ADEC periodically samples approximately 50 groundwater monitoring wells located throughout the plumes. Contaminant concentrations in groundwater are monitored to determine if the plumes are expanding or decreasing in size, and to see how the concentrations of contaminants and breakdown products change over time. The groundwater plumes appear to be stable, safely separated from the water supply wells for City residents.
ADEC has conducted multiple surveys of properties overlying the contaminant plumes to see if there are wells still in use that are used for drinking purposes. Several wells in the area are used for cooling water or irrigation, but none have been found that are used for drinking.
In 2010, ADEC installed a soil vapor extraction (SVE) system to remove PCE from the soil at the largest release area behind Good News Bible and Book Store (GNBBS). The system also removes vapors from beneath the GNBBS building so that they cannot migrate into the building. Since its installation, the treatment system has removed a sufficient mass of contamination that, when coupled with natural attenuation processes in the groundwater, the largest plume appears to be stable, and is anticipated to shrink in size over time.
ADEC has sampled indoor air and/or soil gas beneath or adjacent to 22 buildings that are closest to the contaminant source areas and have the greatest risk of vapor intrusion. ADEC will continue to evaluate vapor intrusion into buildings above the groundwater plume.
What's Next
ADEC will continue to monitor the groundwater in the contaminant plumes, as well as soil gas in locations above the groundwater plumes and adjacent to buildings at risk to vapor intrusion. In 2016 DEC will modify operation of the remedial system to a smaller radon fan-type system.
What can you do?
Please contact the ADEC project manager at the number listed at the end of this fact sheet to report if you have a well on your property and what you use it for. Please avoid contact with any groundwater from the contaminant plume. Wells used for irrigation can spread contamination and expose people to contamination through volatilization. Please do not disturb any sampling activities occurring in the vicinity. Some soil gas sampling occurs over a period of several days so the sampling equipment may be left unattended.
More Information
If you have any questions concerning this contaminated site, please contact Mr. James Fish at 907-451-2117 or at james.fish@alaska.gov. For questions regarding human health, please contact Dr. Sandrine Deglin at 907-269-8028 or at sandrine.deglin@alaska.gov.
Information on PCE, TCE, and other contaminant health effects can be found at the Agency for Toxic Substances and Disease Registry website
Vapor Intrusion Information: