Shishmaref Chukchi Sea Sheen
Location

Northern coast of Sarichef Island, near the community of Shishmaref.

Time/Date

On June 4, 2014 a sheen on the nearshore icepack with a gasoline odor was reported to ADEC. A sheen was once again noticed by the Village Public Safety Officer (VPSO) and reported to ADEC on both December 15, 2014 and May 26, 2015.

Spill Id

14389913501

Product/ Quantity

Analysis of samples collected in December of 2014 showed that the product released is a mix of weathered gasoline and diesel. During a site visit on June 4, 2015, ADEC and USCG responders confirmed that the released product is gasoline. The amount of product released is unknown.

Cause

A hydrostatic test was performed on the gasoline line and it confirmed there was a leak where the marine header and gasoline line meet.
ADEC Situation Reports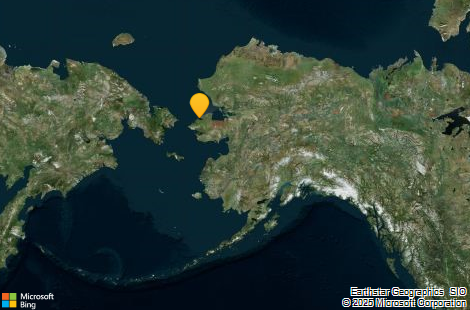 Contact Information
Photos
Images may be downloaded for free and used in publications provided credit is given to the source.
June 4, 2014
---
June 6, 2014
---
December 20, 2014
---
June 4, 2015

Indicates an external site.