Cook Inlet - Places of Refuge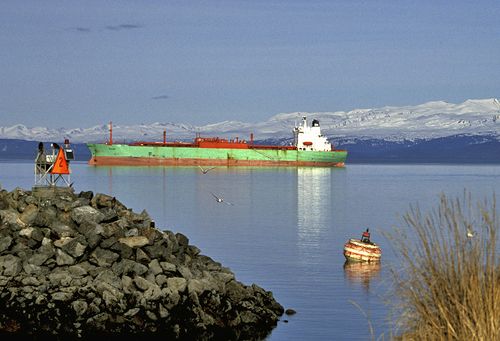 (Photo/Bill Scott)
This website was used to assist the Cook Inlet Potential Places of Refuge Workgroup in the development of a document describing Potential Places of Refuge (PPOR) in the Cook Inlet Subarea. The project was completed in September of 2007 and has been forwarded to the Cook Inlet Subarea Committee for inclusion in the Subarea Contingency Plan.
The Cook Inlet Subarea is depicted in the map shown below. Similar projects have taken place for the Prince William Sound, Aleutian and Kodiak Subareas. View more info about the workgroup record and products from those projects on the PPOR homepage.
Objective
The objective of this project has been to identify docking, anchoring and mooring locations that may be selected as Potential Places of Refuge in order to enhance the overall response process.
Maps
The map below depicts some of the risk factors the workgroup used in selecting potential places of refuge. The workgroup identified candidate sites for potential places of refuge and a site assessment matrix and site assessment key were developed. This matrix summarizes the resources at risk for each site and aided in the final selection of potential places of refuge. Download a copy of the Site Selection Matrix (PDF 62K) and the Key (PDF 26K).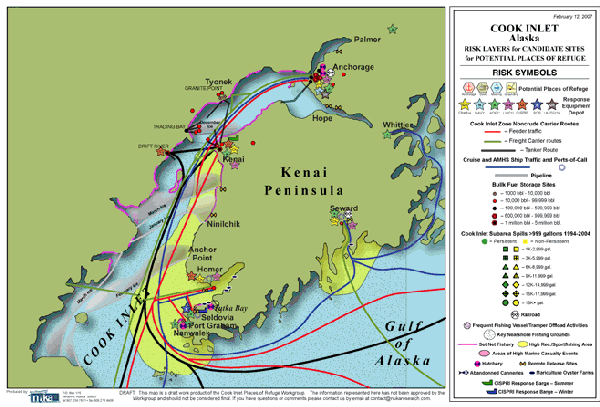 Index of PPOR Maps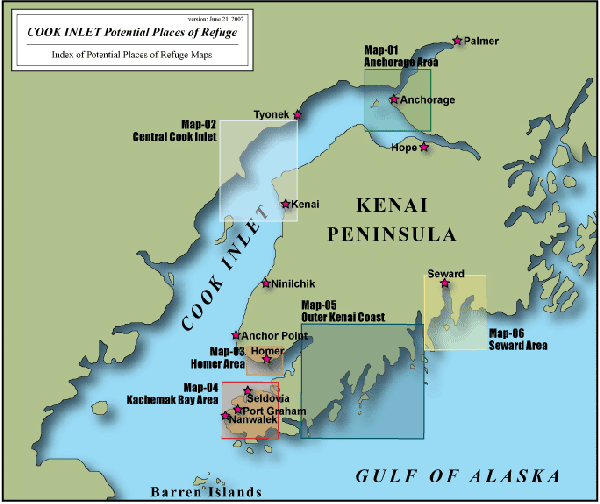 Download (PDF 1.3M) a copy of the index map in print resolution.
The map above is an Index Map of the Cook Inlet Subarea. Outlined on the map are 6 areas that contain the individual sites selected by the workgroup as Potential Places of Refuge. Each area has a corresponding map that shows the locations of these sites and three tables for each map that give specific information for each individual site. This information includes site considerations, stakeholders, and physical and operational characteristics.
The following is a list of the Cook Inlet Subarea Potential Places of Refuge maps identified on the index map with links to the corresponding PDF:
PPOR Introduction Section
These plans have been reviewed and approved by the public and the workgroup. They are included as a section to the Places of Refuge portion of the Subarea Contingency Plan. There is an introductory section to the Places of Refuge portion of the Subarea Contingency Plan that explains the context and use of the plans.
Primary Project Participants
Alaska Department of Natural Resources
Alaska Department of Environmental Conservation
Cook Inlet Regional Citizens' Advisory Council
Department of the Interior, US National Park Service
Southwest Alaska Pilots Association
Tesoro Alaska Co.
United States Coast Guard 17th District
United States Environmental Protection Agency
Invasive Species Considerations
Alien or invasive species include seeds, eggs, spores, or other biological material capable of propagating that species that is not native to an ecosystem. Invasive species commonly are transported in ballast waters and cargo associated oil transport and shipping. During operations any species that are encountered that are suspected to be non-native should be collected and presented to wildlife managers. Additional information on invasive species can be found in the "Useful Websites" section below.
Websites of Interest
Invasive species informative websites:
If you have local knowledge about the Cook Inlet Subarea or for more information or questions pertaining to this project, contact dec.spar.ppor@alaska.gov