Kulluk Tow Incident
Incident Description
The towline between the M/V Aiviq and the Conical Drilling Unit (CDU) Kulluk parted on December 27, 2012 due to mechanical failure of the tow shackle. The tow was subsequently regained and lost several more times over several days and involving several other tow vessels. The CDU Kulluk grounded at 8:48 p.m. on December 31 at a location betweethe north end of Ocean Bay and Partition Cove on Sitkalidak Island. After several days of extensive planning and weather delays, the CDU Kulluk was refloated at 10:10 p.m. on January 6, 2013 and relocated to a place of refuge (Kiliuda Bay) for additional salvage and damage assessment. Throughout this incident, there has been no oil or hazardous substance release to the environment.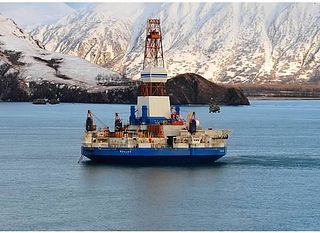 The Kulluk anchored in Kiliuda Bay.
Incident Update
January 9, 2013
The CDU Kulluk remains safely anchored in Kiliuda Bay at its assessment position. In addition to being anchored, the CDU Kulluk is also tethered to the M/V Lauren Foss and the M/V Corbin Foss. There continues to be no sign of leakage in the vicinity of the CDU Kulluk.
Support vessels will remain with the CDU Kulluk during the structural assessment phase. Other resources that were brought on board specifically for the salvage operation are in the process of being demobilized. The M/V Alert and the M/V Perseverance were demobilized on January 8.
The Dive Support Vessel Sand Island arrived in Kiliuda Bay on January 8 to support Remote-Operated Vehicle (ROV) activities, and additional dive activities if needed for structural assessment.
ROV survey activities will begin on January 9 with a survey of the anchor and chain. The ROV survey will switch to the CDU Kulluk in preparation for survey activities of the hull for damage once additional personnel (from Det Norske Veritas, marine chemist, USCG inspector) arrive.
The Command Center shifted from the Downtown Marriot to the Frontier Building over the evening of January 8.
Plans for lifeboat and debris removal operations are being advanced. Preliminary results depict that some diesel fuel was released from at least two of the 4 lifeboats. The quantity of fuel on board these vessels was relatively small, and the environmental impact, if any, will be determined during site visits conducted to remove the vessels.
Interactive Map-Based Resource Information
This interactive GIS-based map shows the Kulluk grounding location and environmentally sensitive areas identified by state and federal agencies as a part of their spill response planning efforts and included in documents such as the Kodiak Island Subarea Plan.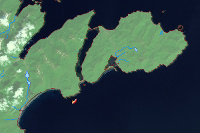 Vessel Information
Photos
Images may be downloaded for free and used in publications provided credit is given to the source.
January 1, 2013 - USCG Overflight
January 2, 2013 - Overflight