General Conformity
General conformity is a process required by the Clean Air Act (CAA), which establishes the framework for improving air quality to protect public health and the environment. On November 30, 1993, the Environmental Protection Agency (EPA) promulgated General conformity Regulations which apply to all federal actions other than the highways and mass transit.
These regulations were put in place to prevent air quality impacts of Federal actions from causing or contributing to a violation of the National Ambient Air Quality Standards (NAAQS) or interfering with the purpose of a State Implementation Plan (SIP), Tribal Implementation Plans (TIP) or Federal Implementation Plan ( FIP) in a nonattainment or maintenance areas.
The implementation of the existing General Conformity Regulations process falls into three phases:
Applicability Analysis
Conformity Determination
Review Process
General Conformity does not apply to actions:
Affecting cars and buses (actions subject to transportation conformity);
Causing a small amount of emissions (de minimis levels);
That are presumed to conform; and
Specifically identified in the regulations as exempt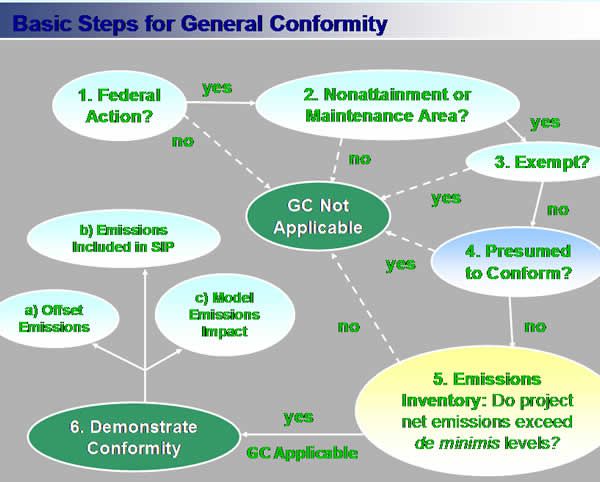 (Image credit: //www.epa.gov/oar/genconform/training/01_mod_1_Sec_1-1.html)

Indicates an external site.