Regional Haze in Alaska
Regional Haze SIP Update Information (under construction)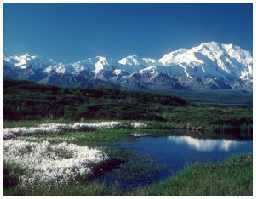 (Image credit: Denali NPP, ©Alaska Division of Tourism)
Regional haze refers to haze that impairs visibility in all directions over a large area. The distance that one can see is limited because of tiny particles in the air absorbing and scattering sunlight, which in turn degrades color, contrast, and clarity of the view. On July 1, 1999 the Environmental Protection Agency announced a rule designed to protect and improve visibility in 156 national parks and wilderness areas throughout the country. The Regional Haze Rule (which was updated January 10, 2017) only affects Class I national parks and wilderness areas. Alaska has only four Class I (PDF) areas subject to the rule, they are:
The Regional Haze Rule establishes specific State Implementation Plan (SIP) requirements and strategies to adopt when implementing a plan. States must develop long-term plans for reducing pollutant emissions that contribute to visibility degradation and within the plans establish goals aimed at improving visibility in Class I areas. The SIP must address haze caused by all sources of pollutants that impair visibility including haze caused from smoke, vehicles, electric utility and industrial fuel burning, and other activities that generate pollution.
To learn more about regional haze, see the following links:
Background Information and Documents from Original Alaska Regional Haze State Implementation Plan:
Alaska Regional Haze Best Available Retrofit Technology (BART) Documents:
Regional Haze Contact:

Indicates an external site.