Shellfish Recreational Harvesting
Know Before You Dig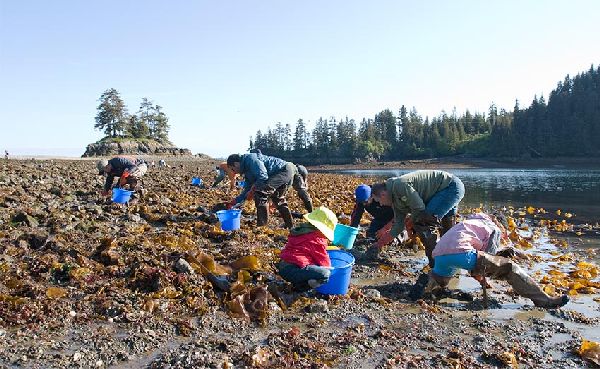 Subsistance harvesting at Jakolof Bay. Photo courtesy of Dave Partee/Alaska Sea Grant
There are no beaches that are certified or designated as "safe" beaches for shellfish harvesting in Alaska. All recreationally-harvested shellfish — including clams, mussels, oysters, geoducks, and scallops — may contain paralytic shellfish toxin (PST) that, if ingested, can cause death.
If you choose to harvest shellfish in Alaska, it is important that you know the facts about PST, know the species you plan to harvest, and know the symptoms of paralytic shellfish poisoning and get help quickly!
Get medical help immediately if you experience nausea, vomiting, diarrhea, abdominal pain, and tingling or burning lips, gums, tongue, face, neck, arms, legs, and toes, shortness of breath, dry mouth, a choking feeling, confused or slurred speech, and lack of coordination.
Resources
PSP is a serious illness caused by eating shellfish contaminated with algae that contains Paralytic Shellfish Toxin (PST), a toxin harmful to humans.
Information on subsistence and personal use harvest of shellfish in Alaska through the Department of Fish and Game.
Environment Alaska offers information on staying safe while harvesting shellfish.
The Washington Department of Health's downloadable information on the safe harvest of recreational shellfish.
A one-page chart with color photographs to help identify common shellfish in Alaskan waters.

Indicates an external site.