DEC Brownfields Technical Support
DEC works closely with communities across Alaska to identify, assess, and cleanup brownfields to put those properties back into productive use. By assisting Alaskan tribes, native corporations, municipalities, and non-profits in conducting environmental site assessments and cleanups at brownfield sites, DEC Brownfields Assessment and Cleanup (DBAC) services help identify and reduce the environmental uncertainties or improve actual conditions. Since 2004, DEC has provided over 200 technical services to its community and tribal partners to assist their projects navigate the brownfields development process. More information on how to apply for DBAC services can be found on this page.  Applications for DBACs are usually accepted between November and February.  Dates for 2022 DBAC application period TBD.  
Applying for DBACs
Video: Tips for Applying
Introduction
Using funds from the U.S. Environmental Protection Agency (EPA), DEC will conduct a number of DEC Brownfields Assessment and Cleanup (DBAC) projects at eligible properties in Alaska. DEC continues to assist Alaskan communities across the state by conducting environmental site assessments, a limited cleanup effort, and characterization/cleanup planning. A DBAC is intended to help reduce the environmental uncertainties or conditions that hinder the reuse or redevelopment of an eligible property.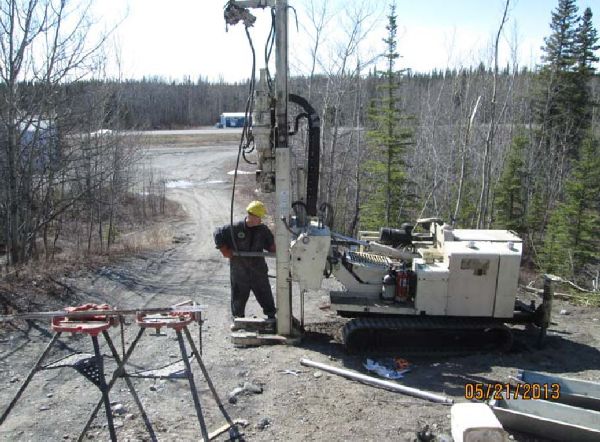 A drill rig takes soil samples at a site in Glennallen, Alaska targeted for reuse as the home for a new fire station. Environmental sampling is one of the many services that applicants are eligible for through the DBAC program.
In selecting projects, we look for projects that have solid reuse or redevelopment plans, projects that are seeking other funds to support their reuse goals and projects which have demonstrated strong community commitment and support. This year's DBAC request period was open from November 15, 2020 to February 15, 2021. 
Reuse and Community Support
Brownfields are about beneficial reuse and redevelopment. Reuse goals can include: new construction, redevelopment using existing infrastructure, creation of recreation areas, preservation of green space, enhancement of sustainable subsistence habitat, and many others. Putting contaminated or potentially contaminated properties back into productive use can provide many environmental, social, and economic benefits to your community.
When considering the proposed benefit of your project, think about the priorities in your community. Some things to consider are: the creation of jobs, preservation of historically or culturally significant property, location for community activities or educational purposes, preservation of subsistence habitat, reuse or recycling of materials or infrastructure, cost savings to the community, or increased property values.
Eligible Applicants
DEC Brownfields Assessment and Cleanup services are available to public, quasi-public or non-profit entities such as municipalities, tribal governments, native corporations and community development organizations interested in redeveloping abandoned or underutilized properties.
Application Process
DEC no longer requires submission of a pre-application form and participation in a pre-application meeting. However, a pre-application meeting is strongly encouraged.
Please begin preparing your application well before the deadline to ensure sufficient time for Brownfields staff to assist you with any questions you may have and to gather any additional information that may be required before the submittal deadline. We are here to help so please call us with any questions about the application or the eligibility of your project.
Generally, the review and awarding of DBACs will follow the following schedule:
Completed applications due to DEC by February 17
ADEC reviews, scores, and ranks applications in March
Applicants are notified of ranking by ADEC in late March or early April
In most years, EPA will notify ADEC of available funding to use towards providing DBAC services in May or June. Shortly after, ADEC will schedule kick-off meetings with communities receiving DBACs and will develop a scope of work for each project.  In early summer, contractors will bid on each project's scope of work, with contracts awarded to best proposals
Field work will be performed over the Summer and early Fall
Reports are developed, finalized, and submitted to ADEC over the Fall and Winter months
ADEC will convene a wrap-up meeting with each community after the report is finalized
Application Assistance
If you have questions regarding brownfields or the DBAC application, please contact our DEC Brownfields staff. We are happy to talk with you—we want to help you submit a successful DBAC application!
Lisa Griswold
907-269-2021
Submission Requirements
A completed application must be received via email at lisa.griswold@alaska.gov or via mail no later than 5 p.m. AST on Monday February 17, 2020:
Alaska Department of Environmental Conservation Contaminated Sites Program
555 Cordova Street, 2nd floor
Anchorage, AK 99501
Attention: Lisa Griswold
Ranking Criteria
The following ranking criteria will be used to prioritize and select projects for State Fiscal Year (SFY) 2021 funding (SFY 21 begins July 1, 2020). The number of sites selected depends on our actual SFY 21 funding. Your site will be ranked by a review team based on the following criteria. Projects that rank high will meet the following criteria. Please consider these carefully when constructing your application.
Project Requirements – It is clear what the project requires from the information provided. Our efforts will be able to provide a product that will allow the applicant to leverage further funding for revitalization.
Reuse Plan – The reuse plan will allow the use or reuse of existing infrastructure; or create, preserve or add to a park, greenway, recreational or cultural property. The reuse plan provides a strong economic or public benefit.
Viability of Reuse Plan - Plans for sustainable development are well thought out and documented. Funding to continue work at this site has been procured or is being sought.
Project Costs – The scope of the requested work is within our funding capacity.
Community Support and Benefit – The community has been included in the proposal and support is documented through letters. The project would result in a measurable community benefit through identification and possible reduction of threats to human health and the environment as well as an increase in jobs, preservation of a resource, or construction/revitalization of a community facility or structure. The applicant has the resources and inclination to insure the project is successful.
Bonus points will be awarded for the following:

Green building or habitat preservation
Historical or cultural significance
Use of alternative energy
Disclaimer (fine print)
Under no circumstances does an award of DBAC services imply that DEC accepts liability for any contamination that may exist at the site, nor is DEC responsible for any necessary cleanup of hazardous substances that may be found at the site. Liability for contamination on a property is specifically addressed in Alaska Statute (AS) 46.03.822, which outlines those who are liable for the release of a hazardous substance. The general liability categories include: (1) those with an ownership interest in the property; (2) those in control of the substance at the time of the release; or (3) those who arrange for disposal or transport of the substance.
Brownfields work focuses on clarifying environmental concerns associated with property for which there is no known viable responsible party. By applying for a DEC Brownfield Assessment or Cleanup, it should be clear to all parties associated with a request that the work requested of DEC is designed to identify, clarify, and in some cases, remediate environmental hindrances that currently impede the continued use, proposed use, redevelopment, or sale of a property. Work conducted by DEC may result in identifying a property as a contaminated site, and require the site be listed on DEC's Contaminated Sites Database. With listing comes the requirement of potentially responsible and liable parties to address cleanup of contamination in accordance with regulatory requirements.

Indicates an external site.