Where can i find funding and other technical assistance for my brownfield project?
On This Page
DEC Brownfields Assessment and Cleanup Services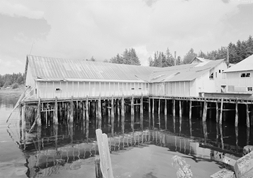 Photo of the Keku Cannery in Kake, Alaska. Both DEC and EPA provided site assessments, through their DBAC and Targeted Brownfield Assessment (TBA) services, respectively. In addition, DEC has performed a hazardous building materials abatement at the site.
DEC Brownfield and Assessment and Cleanup (DBAC) services are intended to help reduce the environmental uncertainties or conditions that hinder the reuse and/or redevelopment of an eligible property. DBAC objectives are to determine whether an environmental problem is limiting a site's use or intended reuse or redevelopment, help identify the nature and extent of contamination, provide recommendations, estimate costs for possible additional assessment, and to conduct cleanup activities designed to enable reuse of a site.
DBAC services can include providing soil and groundwater assessments (Phase I and II), hazardous building materials (HBM) surveys, asbestos abatement and disposal, cleanup services, landfill permit assistance, among others. Generally, the application period for DBAC services runs from November through February. In addition to providing DBACs, the DEC Brownfields Program also can provide direct, informal technical assistance to Alaskan communities and tribes, such as providing community outreach and training, researching site history and cleanup status, and facilitating collaboration with other state and federal agencies in an effort to leverage additional resources.
To learn more about how to apply for DBAC services, visit DEC's DBAC webpage. To learn more about specific projects that have received DBAC services, visit DEC's brownfields projects webpage. 
EPA Grants and Technical Assistance
U.S. EPA's Brownfields Program provides grants and technical assistance to communities, states, and tribes to encourage the assessment, cleanup, and reuse of contaminated or potentially contaminated sites, as well as develops resources to encourage investment in brownfield properties to spur redevelopment.
↑
Other Funding Opportunities and Resources
Many other organizations offer resources that may be available beyond the traditional assessment and cleanup grants and services. Many of the resources included below offset costs and provide support with other stages of a brownfields project besides cleanup, including project planning, related development costs (e.g., improvements to local infrastructure), and costs associated with the site's ultimate reuse or redevelopment.
Department of Agriculture, Rural Development
The US Department of Agriculture's (USDA's) Rural Development (RD) program provides technical assistance grants, loan guarantees, and other technical assistance throughout rural Alaska. In particular, USDA's RD initiatives promote single- and multi-family housing, business development, community facilities development, and sanitation upgrades. Over the past eight years, USDA's RD program has invested over $2 billion in rural Alaskan communities.
Rural Business Development Grants
Community Facilities Direct Loan & Grant Program
Department of Commerce, Economic Development Administration
The Economic Development Administration (EDA) provides grants and technical assistance for economic development planning to economically distressed tribes and communities. Many EDA resources are awarded on a rolling basis throughout the year.
Department of Health and Human Services, Agency for Toxic Substances and Disease Registry
The Agency for Toxic Substances and Disease Registry (ATSDR) can assist TRPs and communities consider health impacts as part of a brownfields project and planning for potential reuses. ATSDR may be able to provide site-specific health assessments upon request depending upon resources and data availability. ATSDR has also developed a customizable tool that allows users to input data to create a tailored desktop assessment, as well as created toolkits for users to consider health impacts when making reuse decisions.
ATSDR Brownfields/Land Reuse Site Tool
Department of Housing and Urban Development, Office of Native American Programs
The Office of Native American Programs (ONAP) supports and provides resources to ensure the availability of safe, decent, and affordable housing for families in Alaska's tribal communities, as well as assists with planning for community development in general. Most funds must be used primarily to benefit low- or moderate -income Indian families.
Environmental Protection Agency, Indian General Assistance Program
Through the Indian General Assistance Program (IGAP), EPA provides funding and technical assistance to tribal governments and intertribal consortia to help tribes build capacity and establish environmental programs, including, but not limited to administering their own solid and hazardous waste programs. Generally, funding is between $75,000 and $125,000. EPA usually announces the notice of funding availability each year in the fall. Examples of eligible activities include those that build capacity for tribal environmental and solid waste management programs, as well as waste management implementation activities (e.g., solid waste and recovered materials collection, transportation, backhaul, and disposal services).

Indicates an external site.