Fairbanks International Airport PFAS groundwater contamination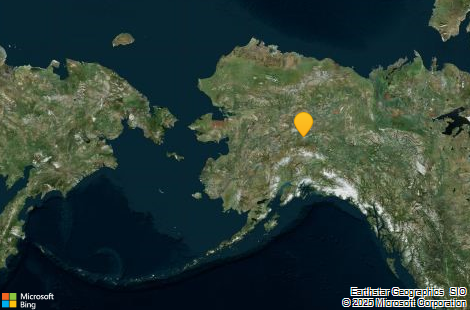 DEC Contaminated Sites contact: Robert Burgess, Project Manager, 907-451-2153 (Fairbanks)
Click on photos or maps for larger versions.
Contacts updated: 1/2/2018
Summary updated: 12/11/2018
Site Narrative
Background
Fairbanks International Airport (FAI) sampled a variety of groundwater wells and surface water from airport property in the summer of 2017 for per- and polyfluoroalkyl substances (PFAS) in coordination with DEC. This investigation of groundwater and surface water at the airport was prompted by the recent investigations at other facilities where fire training and response using Aqueous Film Forming Foam (AFFF) has occurred and resulting PFAS impacts to groundwater have affected private drinking water wells. FAI has also used AFFF in training and emergency responses on airport property for many years, and initiated investigations following discussion with DEC's Contaminated Sites Program. Initial samples were taken opportunistically during investigations for other contaminants at the Don Bennett Shooting range site. When sample results indicated that concentrations of two PFAS compounds exceeded established cleanup levels, FAI began plans to sample existing monitoring wells and surface water bodies throughout the facility. Detections of PFOA and PFOS above cleanup levels prompted immediate searches and sampling of drinking water wells in the area downgradient from the airport.
A burn pit at the airport used for training with AFFF was constructed in 1993. Prior to 1993, training with AFFF was conducted outside of a lined pit south of the East runway, and at another location adjacent to the Airport Response Center (ARC).
Regulatory Health and Cleanup Levels
The DEC published cleanup levels for two types of PFAS, perfluorooctane sulfonate (PFOS) and perfluorooctanoic acid (PFOA), in groundwater in November 2016. The cleanup levels are described in the technical memo for PFOS and PFOA cleanup levels comparison. The DEC's cleanup levels are designed to be protective for direct contact, ingestion, and inhalation of contaminants. The U.S. Environmental Protection Agency (EPA) established a lifetime health advisory (LHA) level of 70 nanograms per liter (parts per trillion) for the sum of the PFOS and PFOA concentrations. This level may be applied to drinking water, but is not an enforceable regulatory number. This map shows the latest results of sampling.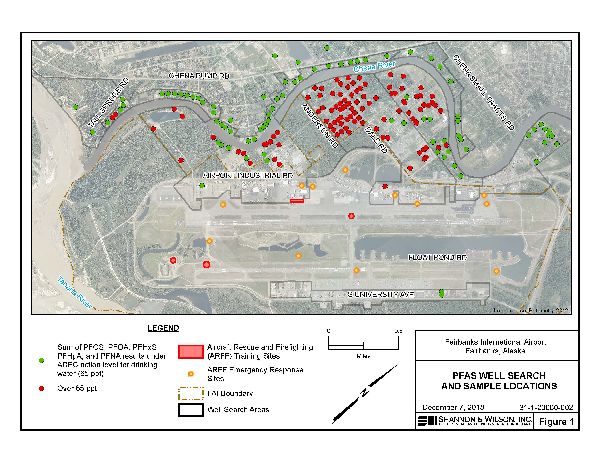 Current Investigations
Shannon & Wilson, Inc. (FAI's environmental contractor) commenced sampling of drinking water wells on November 10, 2017. Sample results indicated that PFOA and PFOS are present in groundwater above the LHA in a number of wells in the Dale Road neighborhood, northwest of the source areas on airport property. As an initial step, FAI is providing bottled drinking water to impacted residents to prevent people from drinking PFOA/PFOS in private wells. The water being provided is sourced from a public water system that is in compliance with applicable regulations. Residents and businesses in the impacted area should contact FAI at (907) 474-0380 for inquiries regarding alternative water.
FAI expanded the search area to the far side of the Chena River, to properties in between the river and Chena Pump Road, following the discovery of LHA exceedances in the Dale Road Neighborhood. The search area will continue to expand until no additional wells are found with PFOA or PFOS contamination above the Lifetime Health Advisory level.
Future Plans
FAI intends to facilitate piped water connections to College Utilities for impacted residents by the summer of 2018. DEC will continue to work with the FAI to characterize the extent of contamination in soil and groundwater, and to develop future plans that ensure the protection of human health and the environment.
Contacts
Regulatory and Technical Information

Robert Burgess, Alaska Department of Environmental Conservation, Project Manager
907-451-2153

Interim and final water solutions, FAI Plans

Angie Spear, Fairbanks International Airport, Division Operations Manager
907-474-2529
Sammy Loud, Fairbanks International Airport, Communications Specialist
907-474-2522

PFAS health effects

Stacey Cooper, Alaska Department of Health & Social Services, Health Assessor
907-269-8016

PFAS testing in the impacted area

Marcy Nadel, Shannon and Wilson, Inc.,
907-458-3150

Claims

Jack Albrecht, Alaska Department of Administration, Risk Management Claims Administrator
907-465-2183
More information
For more information and links, please visit DEC's Per- and Polyfluoroalkyl Substances Webpage