Waste Erosion Assessment and Review (WEAR) Project
An Inventory Project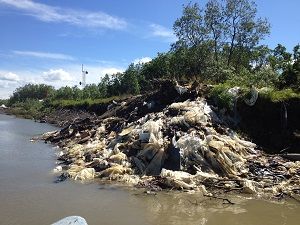 Alakanuk South Side Dump Site eroding into Alakanuk Pass in 2012
Coastal and river erosion has the potential to cause hazardous substances and garbage from Alaska's landfills, contaminated sites, tank farms, and other sites of environmental concern to be released into the ocean and the state's rivers, jeopardizing Alaska's waters, fish and wildlife.
The Alaska Department of Environmental Conservation conducted a four-year $1.4 million project to inventory and rank those sites, and generate detailed action plans for the sites of highest concern. This project will help state and federal agencies, as well as rural communities, allocate funding to cleanup sites and control eroding areas.
The Waste Erosion Assessment and Review (WEAR) project was funded by the federal Coastal Impact Assistance Program (CIAP), which dispersed money through federal legislation to six states that are on the outer continental shelf and produced oil and gas.
Community Visits 2012 - 2014
The project area covered Alaska's northern and western coasts, the Aleutian Islands, and river communities up to 300 miles upriver from the coast. Staff conducted site visits in 124 communities to gather more information about sites within each community. They also performed a detailed evaluation of the design and operations of the landfill in each community.
Input from locals was important during the site visits to help identify sites that were of environmental concern or were eroding. They provided a history for the community that was extremely helpful.
Sites inspected included landfills (dumpsites), contaminated sites, tank farms, boneyards of worn-out vehicles and heavy equipment, and sites where historical military or mining activity occurred near a community. All these sites may be sources of hazardous chemicals, such as PCBs, chlorinated solvents, heavy metals, pesticides, and petroleum products.
The WEAR Map displays all 716 sites inspected in the 124 communities. Information on each site can be found in the SWIMS database.
For More Information Contact

907-269-7802
DEC Solid Waste Program
555 Cordova St.
Anchorage, AK  99501
Final Report
DEC released its Final Report in May 2015. It includes the preliminary reports for each community visited, which provides a brief narrative of the community's sites and photos of each site. It also contains the detailed action plans for the 20 sites of highest concern. Recommendations for these sites are provided such as improving the management or design of the landfill, cleaning up a contaminated site, mitigation options, or relocating a site, if needed.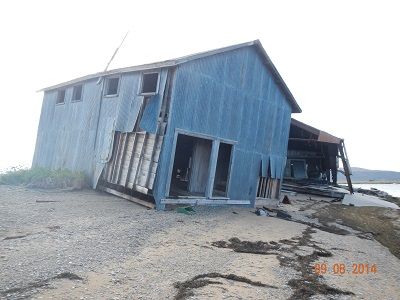 Golovin Fish Processing Plant eroding into Golovnin Lagoon
Appendix B - Detailed Action Plans (DAPs)
This project was funded in part with qualified outer continental shelf oil and gas revenues by the Coastal Impact Assistance Program within the Department of the Interior's U.S. Fish and Wildlife Service.

Indicates an external site.