Emergency Towing Systems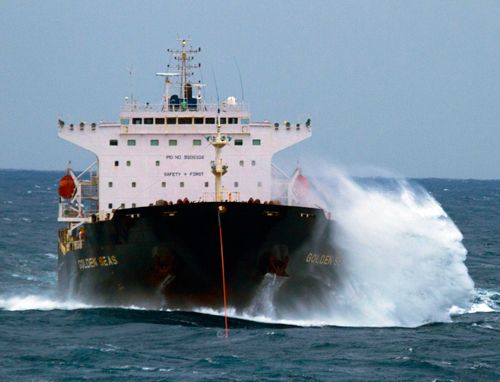 An Emergency Towing System (ETS) is a pre-staged package of equipment that may be deployed in the event a disabled vessel requires assistance in accessing a place of refuge. A manual that instructs responders on the operations of system as well as procedures for deployment accompanies the system. The system is designed to use vessels of opportunity to assist disabled vessels that are in Alaskan waters. It consists of a lightweight high performance towline, a messenger line used in deploying the towline, a lighted buoy, and chafing gear. These components may be configured to deploy to a disabled ship from the stern of a tugboat or airdropped to the ship's deck via helicopter.
Update: An updated version of the Alaska ETS Manual (PDF 12.3M) is now available.
Project Background
Within the last decade, several distressed or stricken vessel incidents occurred in or near Alaska. In a few cases these have caused environmental and economic repercussions. In each situation, the vessel was large tramper or cargo type vessels, which generally carry fuel in bottom tanks, thus posing a significant pollution risk in grounding.
The ETS program came into existence following the near grounding of the Salica Frigo on March 9, 2007 in Unalaska Bay. The Mayor of Unalaska convened a Disabled Vessel workgroup to address the possibility of future groundings and to discuss local emergency response solutions. This initial meeting prompted the Emergency Towing System (ETS) workgroup; whose goal was to develop emergency towing capabilities for disabled vessels in the Aleutian Subarea using locally available tugboats in conjunction with ETS equipment stationed in Unalaska.
The project continued over the past five years with a mobilization and deployment exercise conducted annually in Unalaska. In July of 2017 the ETS system was deployed from Unalaska in an emergency situation to assist the disable container vessel Laura Maersk. This equipment, along with the availability of an appropriate sized towing vessel helped avert a possible grounding.
Since the programs origin, it has expanded statewide. The Alaska Department of Environmental Conservation has purchased and stored 10 inch Emergency Towing Systems at the USCG Air Stations in Kodiak, Ketchikan and Sitka, the ADEC Response Warehouse in Anchorage, and the Emergency Response warehouse in Adak. There are also 7 inch Emergency Towing Systems at the Cargo Building in Nome, at the USCG Facility in Cold Bay and at the city dock in Unalaska.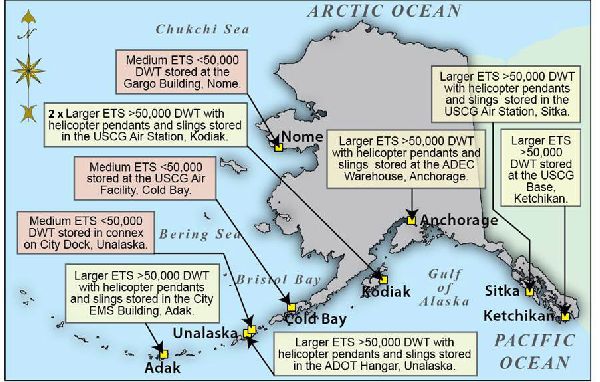 ETS Workgroup Information
Members of the ETS Workgroup include State, Federal and City government representatives, professional industry representatives (local and national) and oil spill prevention professionals.
ETS Exercises
The sixth annual ETS Deployment Exercise was held in Unalaska, Alaska on October 3, 2012 in conjunction with the Aleutian Islands Risk Assessment (AIRA) Phase B Advisory Panel meeting. Further information on the AIRA Phase B project can be found on the Aleutian Islands Risk Assessment website.
Participants in the 2012 ETS Deployment Exercise included:
City of Unalaska
Alaska Department of Environmental Conservation
Alaska Marine Pilots Association
Alaska Maritime Agencies
Dunlap Towing
Harley Marine
KUCB – Unalaska Community Broadcasting
Nuka Research and Planning Group
USCG - MSD Unalaska, Sector Anchorage
The ETS Exercise Plan with complete details on the exercise can be found in an  After Action Report. Photos from the exercise can be found below. Annual exercises will continue into the future and exercise schedules, agendas and plans will be posted on this site.
ETS Deployment Photo Gallery
October 3, 2012 - Unalaska, Alaska ETS Deployment Exercise
Acknowledgement: This report website is funded in part with qualified outer continental shelf oil and gas revenues by the Coastal Impact Assistance Program, Fish and Wildlife Service, U.S. Department of the Interior.
Disclaimer: The views and conclusions contained in this document are those of the authors and should not be interpreted as representing the opinions or policies of the U.S. Government. Mention of trade names or commercial products does not constitute their endorsement by the U.S. Government.

Indicates an external site.