Hazardous Materials: Marine Debris Cleanup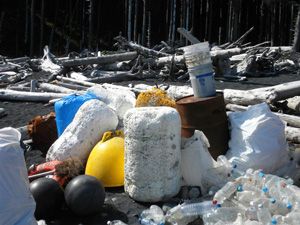 Marine debris collected in Gore Point clean up August 2012. Courtesy Gulf of Alaska Keeper
Every year volunteers and contractors set out to Alaska beaches to pick up marine debris that travels the oceans currents and winds from around the world. In March 2011, the Tohoku earthquake and tsunami struck Japan. The Government of Japan estimates that the tsunami and subsequent marine environment left nearly 1.5 million tons of material floating off the coast of Japan. The amount of tsunami-generated marine debris that currents and winds will bring to Alaska waters remains unknown.
On July 30, 2012 Governor Sean Parnell signed administrative order no. 263. This order recognizes the roles of various federal, state and local agencies in responding to marine debris from the Japanese tsunami. The Alaska Department of Environmental Conservation (ADEC) has been tasked as the lead agency for the State of Alaska's efforts under this order. The ADEC Prevention Preparedness and Response Program is the primary contact for marine debris that is potentially hazardous material (hazmat).
Marine Debris recovery efforts on Alaskan shorelines can pose a threat to cleanup crews. One risk to people involved in the removal of marine debris is the potential for exposure to hazmat. The ADEC recommends that shoreline cleanup crews have the capability to identify and properly handle substances that may pose a threat.
Reporting
Useful Links

Indicates an external site.