Alaska Receives Grant to Improve Air Quality in Fairbanks and North Pole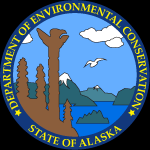 Fairbanks, AK — The Environmental Protection Agency (EPA) has awarded a Targeted Air Shed grant of $14.7 million dollars to the Alaska Department of Environmental Conservation (DEC) for the Fairbanks North Star Borough's (FNSB) non-attainment area to help improve local air quality.
This EPA grant was developed to help reduce air pollution in communities with the highest levels of fine particulate matter (PM2.5) and ozone ambient air concentrations in the nation. Wood smoke is the main source of PM2.5 pollution in the FNSB, and the funded projects will contribute toward reducing PM2.5 emissions over the five-year life of the grant.
"We appreciate the EPA's financial support as we work with residents, stakeholders, and the Borough to combat the root cause of nonattainment — air pollution from wood stoves," said Alaska Department of Environmental Conservation Commissioner Jason Brune. "Through appropriate wood stove replacement realized through this grant and our continued cooperative efforts outlined in our State Implementation Plan, we look forward to reaching attainment by 2024."
The largest project that will be funded is the Wood Stove Change Out Program (WSCOP) in the FNSB. This will assist local residents in meeting the requirements to remove or replace higher polluting devices 25 years and older by 2024.The funds will also be used for projects including highway LED dynamic messaging signs to communicate air quality alerts, supplemental staffing, assessment of compliance rates.
FNSB will administer the WSCOP and document the project's benefits. FNSB Mayor Bryce Ward said, "The Targeted Air Shed Grant award will give our community a fighting chance to come into compliance with the EPA PM2.5 air quality standards. The funding will allow us to continue to provide the wood stove change out program and manage vendor capacity to complete the woodstove exchanges."
For more information on air quality in the Fairbanks North Star Borough, visit the FNSB air quality website.
For more information on air quality in Alaska, visit the DEC Division of Air Quality website.

Indicates an external site.