The mission of the Environmental Health Laboratory (EHL) is to provide analytical and technical information in support of state and national environmental health programs. Such programs include but are not limited to those associated with the surveillance of: air, food, seafood, soil, water, and zoonotic diseases from domestic and wild animals.
Laboratory Services performs chemical and microbiological analysis of matrices such as food, water, milk, fish, shellfish, and soils; and certifies commercial and municipal laboratories to carry out testing of drinking water for compliance and milk by screening laboratories for dairy processing.
Welcome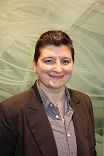 Patryce McKinney
Chief, EH Lab
907-375-8200
notices and alerts
laboratory certification
Certified Laboratories
How to Get Certified
Other Links of Interest

Indicates an external site.