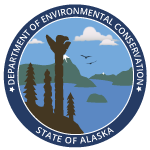 Safety Precautions for Rabies Outbreak
in Bering Strait Region and Western Alaska
For immediate release 

— June 1, 2021

Contact:
Anchorage, AK — The Alaska Departments of Environmental Conservation (DEC) and Health and Social Services (DHSS) recommend that people in the Bering Strait Region and Western Alaska take steps to protect their pets and families from an ongoing rabies outbreak .
Rabies has been confirmed in communities along the northern and western coast from Bristol Bay to the North Slope, with the largest number of cases in Nome. Local environmental, public health, and wildlife agencies, including the Alaska Department of Fish and Game (ADFG), have made announcements in these areas and undertaken prevention activities.
Typically, the Bering Strait Region only sees about four or five animals with confirmed rabies each year, and some years none at all.  In contrast, since October 2020, the State Virology Lab and the CDC have confirmed over 35 cases from the area. Notably, for the first time in over 20 years in Alaska, one of these cases involved a river otter.
"This outbreak underscores the importance of avoiding contact with wild or stray animals that may carry rabies and also vaccinating our pets against rabies, for their safety and to prevent transmission to other animals or humans," said Dr. Louisa Castrodale, a veterinary epidemiologist and manager of the infectious disease program within the Section of Epidemiology at DHSS.
Dr. Castrodale and Dr. Robert Gerlach, DEC's State Veterinarian, urge residents and visitors to the Bering Strait Region and Western Alaska to:
Vaccinate pets against rabies – it could save their life and protects your health too.
Avoid contact with wild or stray animals, for yourself and your pets – use a leash on walks, keep pets confined to a yard or on a tie-out to prevent wandering, and keep an eye out for wild animals in your yard.
Report any contact between wild animals and people or pets to the Alaska Department of Fish and Game – tracking possible rabid animals helps the Department manage and respond to the outbreak. If you or your pet are bitten by a wild or stray animal, report this to the local health care provider or DHSS.
Know the rabies status of animals before bringing them to a new community – moving an animal that may be infected but not yet showing symptoms could transmit rabies to another part of the state.
"Two other viral illnesses, canine distemper and canine infectious hepatitis virus, have also been confirmed in foxes the Nome area," said Dr. Gerlach. "While these are not dangerous for humans, they are dangerous or even fatal for dogs and other wild animals. Ensure your pet is vaccinated and do not transport them from one community to another if they may have been infected with one of these diseases."
Canine distemper has some of the same signs as rabies but is caused by a different virus. All three viral infections are completely preventable in dogs through standard vaccination protocols.

Indicates an external site.