Fact Sheet: PFAS in Kimberly Lake Fish
September 29, 2020
PFAS Present in Fish in Kimberly Lake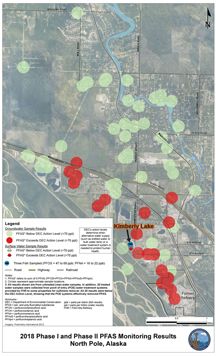 Map above shows the results of DEC's 2018 testing for PFAS in groundwater and surface water in the North Pole area. Click on the map to see a larger version.
Kimberly Lake is located to the northwest of the former North Pole Refinery. DEC investigated and discovered PFAS contamination in groundwater off the former refinery in 2018. During an expanded investigation, PFAS were also identified in Kimberly Lake at elevated levels. This discovery led to the sampling of Kimberly Lake fish. Both PFOS and PFNA were measured at levels of concern in all three fish from Kimberly Lake. Results show PFNA ranging from 16 – 22 parts per billion (ppb), and PFOS concentrations ranging from 47 – 68 ppb. The interim state advice is to not consume surface water or fish from Kimberly Lake. Kimberly Lake has been closed to fishing since April 2019 by the Alaska Dept. of Fish & Game (ADF&G) because of PFAS levels found in fish. ADF&G re-issued an emergency order closing Kimberly Lake to sport fishing in April 2020, until further notice.
Data on  PFAS in Surface WAter and Fish in Kimberly Lake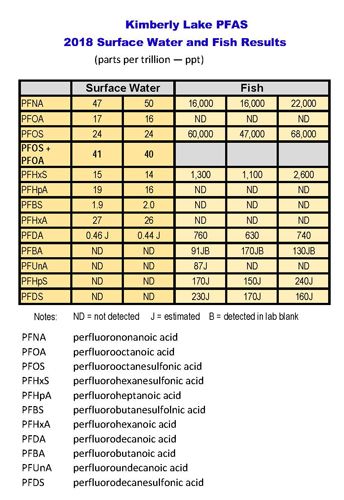 ↑
Assessment and Cleanup
Alaska Department of Environmental Conservation
Division of Spill Prevention and Response
Contaminated Sites Program
Environmental Project Manager
907-451-2117
Health-related Information
Alaska Department of Health and Social Services
Division of Public Health
Environmental Public Health Program Manager
907-269-8054
To learn more, visit:

Indicates an external site.