North Pole Refinery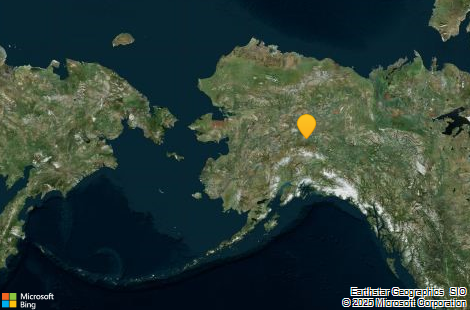 Database Name: Flint Hills Resources Refinery
Status: Open
Location: North Pole
Latitude: 64.735054
Longitude: -147.345115
DEC Contaminated Sites contact: Jim Fish, 907-451-2117  
Click on photos or maps for larger versions.
Contacts updated: 10/10/2018
Summary updated: 7/18/2019
Site Narrative
For background on the history of this site, please see the Project History page
PFAS Present in Fish from Kimberly Lake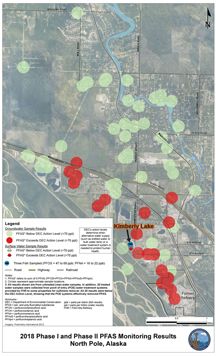 Map above shows the results of DEC's 2018 testing for PFAS in groundwater and surface water in the North Pole area. Click on the map to see a larger version.
Kimberly Lake is located to the northwest of the former North Pole Refinery. DEC investigated and discovered PFAS contamination in groundwater off the former refinery in 2018. During an expanded investigation, PFAS were also identified in Kimberly Lake at 122 parts per trillion (or 0.122 parts per billion). This discovery led to the sampling of Kimberly Lake fish. Both PFOS and PFNA were measured at levels of concern in all three fish from Kimberly Lake. Results show PFNA ranging from 16 – 22 parts per billion (ppb), and PFOS concentrations ranging from 47 – 68 ppb. The interim state advice is to not consume surface water or fish from Kimberly Lake. Kimberly Lake has been closed to fishing since April 2019 by the Alaska Dept. of Fish & Game (ADF&G) because of PFAS levels found in fish. The ADF&G released an emergency order closing Kimberly Lake to sport fishing.
PFAS Investigation of North Pole Area Water
DEC collected more PFAS samples in late fall/early winter 2018. Water from other water wells and surface water – including Kimberly Lake and Badger Slough – was tested for PFAS. Hydrologists chose the test locations to look for PFAS across a wide range of groundwater conditions over an approximate six square mile area in the direction of groundwater flow north and northwest of the former North Pole Refinery.
DEC recently evaluated the uptake of PFAS into garden produce irrigated with PFAS contaminated groundwater. Produce and soil samples were collected from a farm in North Pole to evaluate impacts from irrigation water containing PFAS. The results of this evaluation are summarized in the first fact sheet appearing below.
Piped Water System Expansion
Construction to expand the City of North Pole's piped water system is proceeding and on schedule. The water main lines were installed in Zones 1 and 2 this past summer, while water main line construction in Zones 3 and 4 is scheduled for 2019.
Signing up For Water Service
The City of North Pole has sent notification letters to property owners who are eligible for water connection.
DEC's Contaminated Groundwater Advisory - November 2018
DEC recently issued a Contaminated Groundwater Advisory to all property owners within the North Pole piped water expansion area where many private water wells contain sulfolane, and/or per- and poly-fluoroalkyl substances (PFAS). The advisory assists residents in avoiding unintentional contact with, or spreading of, the chemicals.
While it is known that the spreading of pollution is not allowed under Alaska law, many may not be aware that using untreated, contaminated well water may cause the spread of pollution. Bringing impacted well water to the surface may expose people to the chemicals and/or allow the chemicals to spread onto other properties, sloughs, or ponds. In issuing this advisory, DEC is seeking the community's assistance in minimizing the future spread of these contaminants.
Documents of General Interest