Alaska Fire Emission Inventory
The Alaska Department of Environmental Conservation (DEC) collects, reviews, tracks, and summarizes burn data for several reasons. The annual fire emission report fulfills the responsibility for reporting prescribed fire emissions, as required by the Alaska Enhanced Smoke Management Plan (ESMP). The data is also used for reporting emissions to the Environmental Protection Agency's (EPA) National Emission Inventory (NEI). The data is also valuable for other state planning purposes such as the Regional Haze State Implementation Plan. DEC has been calculating annual emissions from prescribed fires and wild fires based on burn size and vegetation types since 2005. Alaska vegetation mapping uses LANDFIRE (LF) Landscape Fire and Resource Management Planning Tools for emission factors that are applicable to Alaska vegetation types.
Emission Inventory Reports by Year (PDFs):
The figures below, represent the annual emissions from prescribed fires and wildfires from 2007 through 2018. A prescribed fire is a fire intentionally ignited by management actions in accordance with applicable laws, policies, and regulations to meet specific objectives; it is also sometimes called a "controlled burn" or "prescribed burn". A wildfire is an unplanned, unwanted wildland fire including unauthorized human-caused fire.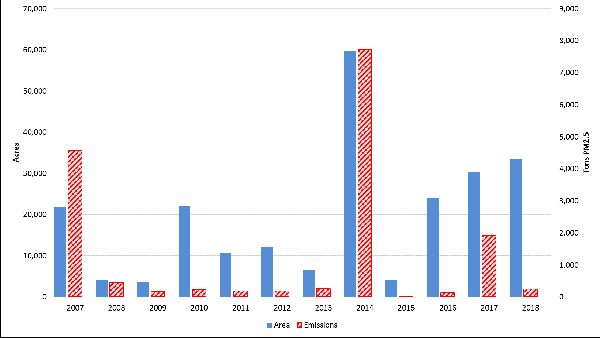 Prescribed Area and Emissions from 2007-2018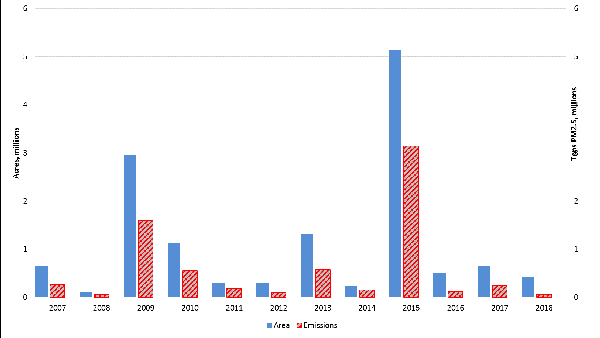 Wildfire Area and Emissions from 2007-2018

Indicates an external site.