Alaska Diesel Strategy - Alaska Retrofit Projects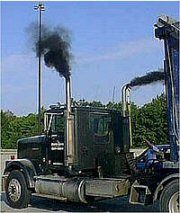 Reducing emissions through the voluntary retrofitting of diesel fleets is a DEC priority. EPA established a retrofit program to review emission reducing technologies and provide guidance and assistance to states willing to start projects. The original focus of the program was school buses. Now, nearly all uses of internal combustion diesel engines can be part of a retrofit program, including transit fleets, construction fleets, and stationary sources.
To capture the full benefits of the ULSD, diesel fleet managers and diesel engine owners can retrofit their engines with new emission control devices. The most convincing health studies showing cancer impacts from diesel exhaust exposure were performed on professional drivers and mechanics, those professions consistently exposed to diesel exhaust. The health of these professionals has the most to gain from the switch in fuels.
Retrofit technologies are installed as "after-treatment" devices and tend to fall under two types:
Particulate traps can reduce particulate matter (soot) by over 90%, but are sensitive to sulfur in the exhaust. Thus, particulate traps are only recommended if the engine is burning ultra low sulfur diesel.
Oxidative catalysts, on the other hand, are sulfur resistant. Oxidative catalysts reduce particulate matter by 20% to 50%, and also reduce nitrogen oxides and carbon monoxide by similar amounts.
Other verified "retrofits" include use of specialty fuels such as water diesel emulsions and biodiesel.
Past Projects
During the summer of 2004, the Anchorage School District successfully retrofitted 74 buses with new oxidative catalysts. This was Alaska's first retrofit project.
DEC put money toward the purchase and transport of biodiesel derived from fish oil to Denali National Park during the summer of 2005.
ADEC partnered with BP-Alaska and ConocoPhillips to perform $4 million worth of diesel emission reduction projects primarily focusing on engine idle reduction. See the "North Slope Oil Producer Agreement" web page for details.
With supplemental project funds available from ADEC, the Alaska Lung Association worked with a number of entities in Fairbanks to retrofit fleet vehicles in the area. However, most interested fleets were already turning over to cleaner vehicles and the project ended up providing 2008 Toyota Camry Hybrid sedans to the Play N Learn Community Head Start and Access Alaska, Inc. See the Final Report (PDF).
Funding Opportunities for New Projects
EPA recently established the National Clean Diesel Campaign. This is a far reaching program funding diesel emission reduction projects across the country. Under the Energy Policy Act (2005), congress will provide funds this fiscal year 2008 to help reduce harmful emissions from heavy duty diesel engines. EPA will award grants to build diesel emission reduction programs across the country that improve air quality and protect public health. For fiscal year 2008, the amount of funding available is $49.2 million. The funding is split into two basic components:
National Clean Diesel program (70 percent of funding)
State Clean Diesel Grant program (30 percent of funding)
The National Clean Diesel Funding Assistance Program contains the majority of the funding dedicated to deployment of diesel retrofit technologies. This funding ($27.6 million for FY08) will be administered by EPA's regional offices. Alaska is within EPA's region 10. The federal entity with Region 10 EPA responsible for reviewing projects and allocating federal grant funds is the West Coast Collaborative. Visit West Coast Collaborative for more information on opportunities to apply for this funding.
Through the State Clean Diesel Grant Program, funding is available to States to establish State diesel emissions reduction programs. Incentives are provided for States to match resources towards these programs. ADEC has partnered with Alaska Energy Authority in the application for the state allocation. Funding is now final, and ADEC has nearly $200,000 to fund diesel emission reduction projects around the state. This is good for Alaska projects as the cost of business in Alaska often reduces competitiveness in national grant opportunities.
Below are examples of retrofit projects which may be considered for funding:
Marine engine efficiency upgrades and retrofits
Mining equipment and fleets
Port and rail equipment
Production and use of biodiesel
Municipal transit and school buses
Anti-idling projects
Diesel power generation
EPA's Website: Transportation, Air Pollution, and Climate Change

Indicates an external site.