Fact Sheet March 2019: PFAS Investigation in North Pole Area Water
Updated: Mar. 27, 2019 - NOTE: the latest version of this fact sheet is dated Sep. 29, 2020.
Contents
See the PDF version of this fact sheet.
Overview
The finding of PFAS, or per- and polyfluoroalkyl substances, in drinking water has drawn attention nationwide, statewide and locally in the Fairbanks area. In Alaska, PFAS in the environment are often linked to the use of certain foams used in firefighting or fire training activities.
PFAS are man-made chemicals used in industry and consumer products worldwide since the 1950s. These chemicals resist heat, oil, water, and stains. They are used in firefighting foams and in many everyday products such as non-stick cookware and water- and stain-repellent fabrics. PFAS do not easily break down in the environment, and they travel rapidly to groundwater where they can spread. Concerns have emerged about possible health impacts of PFAS, and further studies are needed.
In August 2018, the Department of Environmental Conservation (DEC) set action levels for six PFAS in drinking water supplies. In February 2019, U.S. Environmental Protection Agency (EPA) released their PFAS Action Plan.
DEC's PFAS web page has more information on PFAS, DEC's 2018 action levels and EPA's recent PFAS Action Plan.
PFAS Sampling 
Drinking Water Well Results
Water treatment systems used for sulfolane removal are also removing PFAS to below DEC action levels.
In summer 2018, DEC used the existing sulfolane monitoring program to sample North Pole groundwater for PFAS. DEC tested for PFAS in a small number of private water wells and wells used for monitoring sulfolane.
DEC collected more PFAS samples in late fall/early winter 2018. Water from other water wells and surface water – including Kimberly Lake and Badger Slough – was tested for PFAS. Hydrologists chose the test locations to look for PFAS across a wide range of groundwater conditions over an approximate six square mile area in the direction of groundwater flow north and northwest of the former North Pole Refinery.
DEC is aware that fire-fighting foams containing PFAS were used in the past on the former refinery property. The goal of the 2018 monitoring was to look for PFAS off the refinery. PFAS is not related to sulfolane, except that both chemicals were used on the former refinery.
People in the area sampled have already been provided alternate drinking water supplies or point of entry (POE) water treatment systems for sulfolane removal.
For the PFAS sampling, DEC selected:
35 water wells, 20 of which had POE treatment systems, and
42 groundwater monitoring wells.
From each well with a POE treatment system, DEC took two samples: one untreated and the other after treatment. DEC took one sample from each of the other wells.
Drinking Water Well Results
POE treatment systems are effectively removing PFAS to below DEC action levels.
Untreated sample results show a PFAS plume, or area of contamination. Some results were above the DEC action levels.
Samples collected after treatment by POE systems show PFAS below the DEC action levels.

PFAS results were far below DEC's action level in all 20 treated water samples tested.
Groundwater Monitoring Well Results
There is a PFAS plume to the north-northwest of the former North Pole Refinery.
19 of the monitoring well and untreated water well results were above DEC action levels.
58 of the monitoring well and untreated water well sample results were below the action levels.
Surface Water Results
PFAS are present above DEC's action level in the water sample from Kimberly Lake. Kimberly Lake is located to the northwest of the former North Pole Refinery, in the direction of the groundwater flow.
PFAS are present at low levels, below DEC's action level, in samples collected from Badger Slough at the Repp Road, Plack Road, and Hurst Road culverts.
Map
The drinking water well and groundwater monitoring well results are shown on this map. Circles represent approximated sample locations.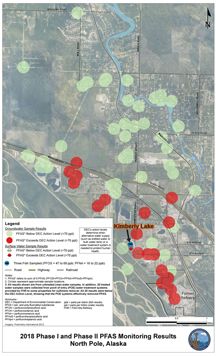 Next Steps
DEC is working with parties responsible for the contamination to further define the PFAS plume off the former North Pole Refinery property.
Possible other sources of PFAS in the area are being explored.
Contacts
Assessment and Cleanup
Alaska Department of Environmental Conservation
Division of Spill Prevention and Response
Contaminated Sites Program
Environmental Project Manager
907-451-2117
Health-related Information
Alaska Department of Health and Social Services
Division of Public Health
Environmental Public Health Program
Environmental Public Health Program Manager
907-269-8054
To learn more, visit:

Indicates an external site.