Matanuska-Susitna - Windblown Dust (PM10)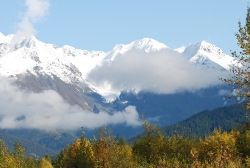 (Photo by Glynn Cater)
Dust (PM10) - During times when the Matanuska River is low, windy weather suspends large amounts of silt in the air. Several air quality alerts are issued each year in the spring and fall because of windblown dust events.
Projects By ADEC
Other links
Complaint Form
Dust (PM10) Control Measures
PM2.5 Control Measures
Link to Mat-Su Borough

Indicates an external site.