Dust Information
There is growing concern with the problem of dust in Alaskan communities. Dust can cause and aggravate respiratory and heart conditions. There are many causes of dust: wind-blown dust from glaciers, gravel pits, increased usage of vehicles on dirt roads, dry river beds, and human activity on non-vegetated land.
The following pamphlets provide information on the health risks associated with dust and what you can do to help control it.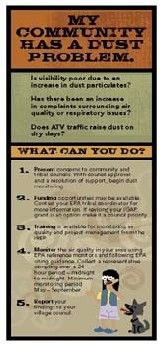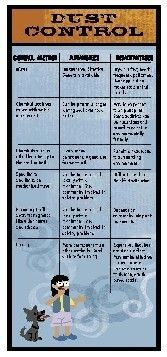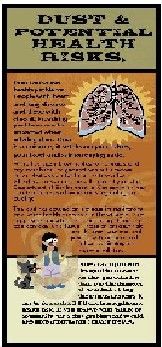 Community Dust
Dust Control
Dust Health Risks
Call, write, email, or stop by your nearest DEC office to request copies of the pamphlets:
ADEC - Air Quality
Mailing Address:
P.O. 111800
Juneau, Alaska 99811-1800
Phone: 907-465-5100
Fax: 907-465-5129
Physical Location: 410 Willoughby Ave, Juneau, Alaska
ADEC - Air Quality
555 Cordova Street
Anchorage, AK 99501
Phone: 907-269-7579
ADEC - Air Quality
610 University Ave.
Fairbanks, AK 99709
Phone: 907-451-2167
For more information visit EPA's Particluate Matter Pollution website.

Indicates an external site.