Southeast Alaska - Potential Places of Refuge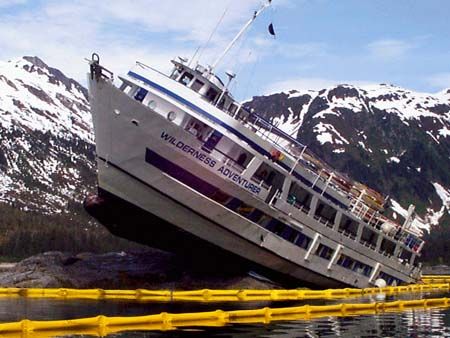 This webpage assisted the workgroup in the development of a document describing Potential Places of Refuge (PPOR) in the SE Alaska Geographic Zone. The project was initiated in October of 2008 and completed in September 2010.
The objective of this project has been to identify docking, anchoring, mooring and grounding locations that may be selected as Potential Places of Refuge in order to enhance the overall response process.
Site Selection Documents
The risk layers map depicts some of the risk factors the workgroup used in selecting potential places of refuge. The workgroup identified candidate sites for potential places of refuge. These sites were researched and the resources and attributes of each were placed in a site assessment matrix and key.
Potential Places of Refuge (PPOR)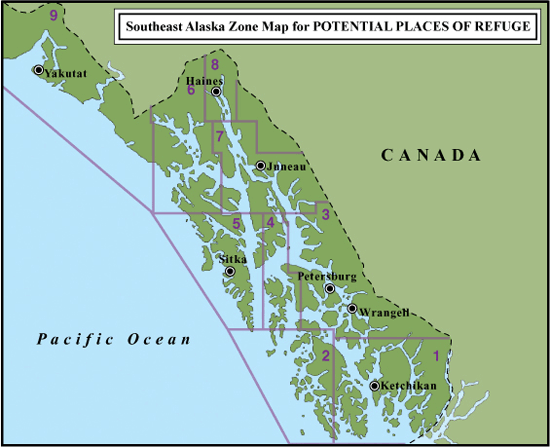 Southeast Alaska PPOR Contingency Plan Document (PDF 257K) - includes introduction and references
Primary Project Participants
Alaska Department of Environmental Conservation
Alaska Department of Natural Resources
Alaska Department of Fish and Game
Central Council Tlingit & Haida Indian Tribes of Alaska
City & Borough of Sitka
City of Skagway
Cruise Line Agencies of Alaska
Ketchikan Gateway Borough
National Oceanic and Atmospheric Administration (NOAA)
Royal Caribbean Cruise Line
Southeast Alaska Conference
Southeast Alaska Pilots Association (SEAPA)
Southeast Alaska Petroleum Resource Organization
Southeast Stevedoring
U.S. Coast Guard (Sector Juneau and District 17)
U.S. Department of the Interior
U.S. National Park Service
U.S. Environmental Protection Agency (EPA)
U.S. Fish and Wildlife Service
Invasive Species Considerations
Alien or invasive species include seeds, eggs, spores, or other biological material capable of propagating that species that is not native to an ecosystem. Invasive species commonly are transported in ballast waters and cargo associated oil transport and shipping. During operations any species that are encountered that are suspected to be non-native should be collected and presented to wildlife managers. Additional information on invasive species can be found in the "Useful Websites" section below.
Websites of Interest
Invasive species informative websites:
For More Information
If you have local knowledge about the Southeast Alaska Geographic Zone or for more information or questions pertaining to this project, contact dec.spar.ppor@alaska.gov

Indicates an external site.