Engineering Support and Plan Review
Onsite Disposal Systems
Onsite disposal systems (OSDS), called septic systems, are widely used in Alaska. Proper installation and care of these onsite systems by homeowners and contractors is essential to maintaining the health of the system, public health and Alaska's environment. This program provides training for proper installation of conventional OSDS.
In areas with difficult site conditions, poor soil or high groundwater conditions that can't support a conventional system an alternative OSDS may be needed. In some instances a waiver may be required. These systems must be designed by an engineer and plans must be reviewed and approved by the Alaska Department of Environmental Conservation prior to construction.
Conventional Onsite System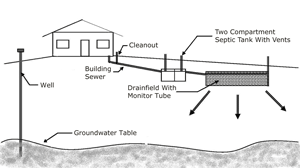 News and Updates
Regulations
Contact Us
Homeowners
File a Wastewater Complaint
Certified Installers
Engineered Systems
Real Estate Agents
Useful Links

Indicates an external site.